UE community garden helping feed people in the community
Published: Jul. 16, 2013 at 9:45 PM CDT
|
Updated: Jul. 23, 2013 at 9:22 PM CDT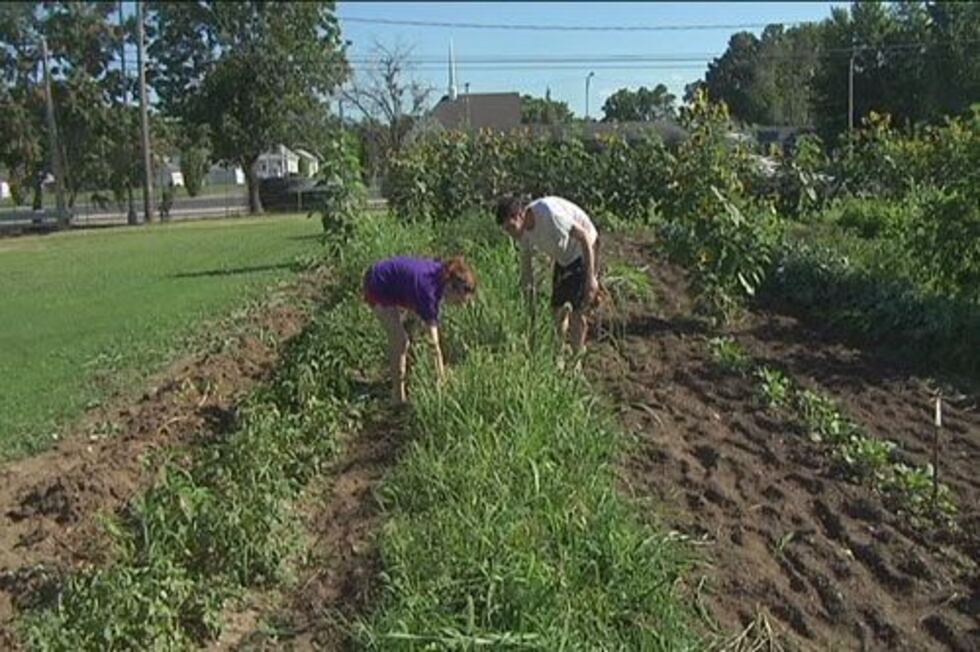 A large garden is flourishing on a former vacant lot near the old armory in Evansville.
It's grown into a farmer's market on the University of Evansville campus and the fruits of all that labor are helping feed a lot of people in the community.
A few feet from the Lloyd Expressway lies a colorful escape. A not-so-secret garden.
"Once it starts to rain, all the sudden you just have vegetables everywhere," Biology major Christie Hubbard said.
The garden is mostly tended to by University of Evansville students and faculty, and Bill Hemminger, a professor and the head of UE's English Department, is their fearless leader.
Four years ago, Bill saw a lot of empty land and got an idea. So with the University's support, he got to work creating the garden.
"It's about, little more than half the size of a football field," Bill said. "At best, this would be a field of clover, but here we are creating something that is both attractive, I think, but then also useful."
"You're not going to get anything this fresh from the grocery store,' Christie said.
Christie out in the garden three or four times a week.
"I think it's character building. Being out here, getting a little sweaty, getting a little dirty," Christie said.
And doing some heavy lifting. Each summer, the garden produces hundreds of pounds of food.
"It's like Christmas presents. They just keep coming," Christie said.
Once they're picked, the home grown gifts end up in a lot of different hands. Bill and his crew host mini farmers markets in UE's Student Union. Their fresh goodies are a hot commodity on campus, and there are no set prices, just a quick eyeball and offer method.
"I got $20 out and it wound up costing me $5. I don't think I could near get that at the grocery store," UE employee Michael Smith said.
"You don't get that opportunity very often so I'm grateful for this," said Terri Ames, an employee at UE.
"This is just another situation where we're helping ourselves as well as the community," Michael said.
That's because extra funds, and extra food, go to local charities. Patchwork Central on Washington Avenue serves Evansville's inner city, in part through a food pantry. What's on display is free to anyone.
Usually, the veggies from the UE garden don't last long.
"People just, if they know about it, they come in droves," said Darlene Blagg with Patchwork Central.
"Fresh produce is the best thing for you and we're able to provide that for people you know as often as we can which I think is wonderful," Christie said.
"It's a way to kind of share our wealth with folks who don't have much," Bill said.
It takes a lot of work to make that happen, but seeing a vision in full bloom makes it all worth it.
Last year the garden was able to provide about $600 and hundreds of pounds of food to Tri-State Food Bank.
Bill says they'll have more farmers markets and deliver more food as it grows.
Copyright 2013 WFIE. All rights reserved.