Small business event shows more shoppers choosing to shop small and local this holiday season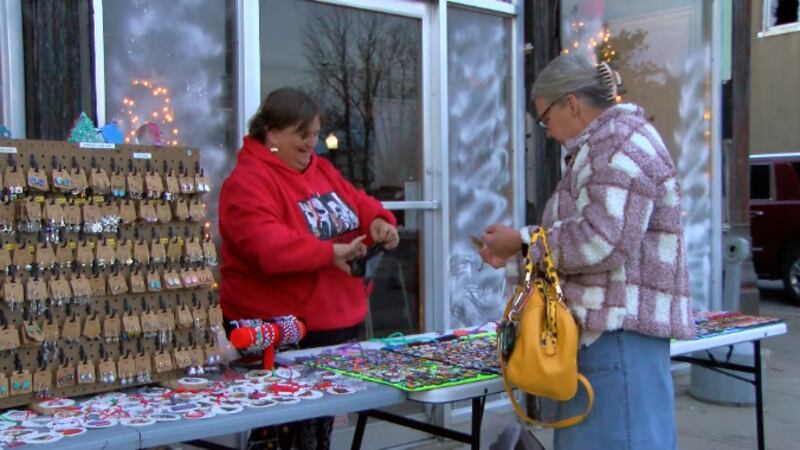 Published: Nov. 19, 2023 at 11:22 PM CST
DAWSON SPRINGS, Ky. (WFIE) - Sales during the week of Thanksgiving are known for long lines and crowded stores. Dawson Springs Area Chamber helped shoppers get the jump on some of their holiday lists away from all of that.
14 businesses lined the downtown area in Owensboro Sunday afternoon for the city's "Jingle and Mingle" event.
Bottle Magic Crafts owner April Jennings says she and her daughter were shocked to see how many people came out to do their Christmas shopping.
"We were surprised, we didn't bring enough stuff because we just didn't know," Jennings said.
Jennings says her shop sold out of a few of their more popular items. She says this is a sign more and more people are choosing to patronize local stores over major chains.
"We thought maybe people were going to go with the big box stores and Amazon," said Jennings.
Items on sale in Dawson Springs Sunday ranged from beauty products to jewelry to hand made gifts.
Jennings says they've gotten feedback from their customers who want a more personal touch to their holiday gifts.
"They really want the unique pieces that people made that people put time into," Jennings said.
While Black Friday and Cyber Monday sales get most of the attention, Idle Hour Jewelry owner Michele Hunter says there's a reason more people are choosing to shop small and locally.
"I think the smaller, more at heart gifts are by small businesses rather than big businesses," Hunter said.
Hunter says Sunday's event was the second event she's been to this weekend in Hopkins County.
14 News talked to some shoppers who say they're glad to see the money they spend go back into their community.
Debbie Scott says she's lived in Dawson Springs for years. After the tragedies the community has endured with the 2021 tornadoes, she says shopping local is part of being "Dawson Strong."
"Dawson's been through a whole lot, so we're glad to see the businesses coming about," said Scott. "We're tickled to see all these people out."
While Dawson Springs held their own local business event a little early, many others across the Tri-State will be hosting their own events on Small Business Saturday this coming week.
Copyright 2023 WFIE. All rights reserved.