USI Volleyball looking for win this week, to clinch OVC Tournament berth
Eagles host UT Martin, Wednesday & Thursday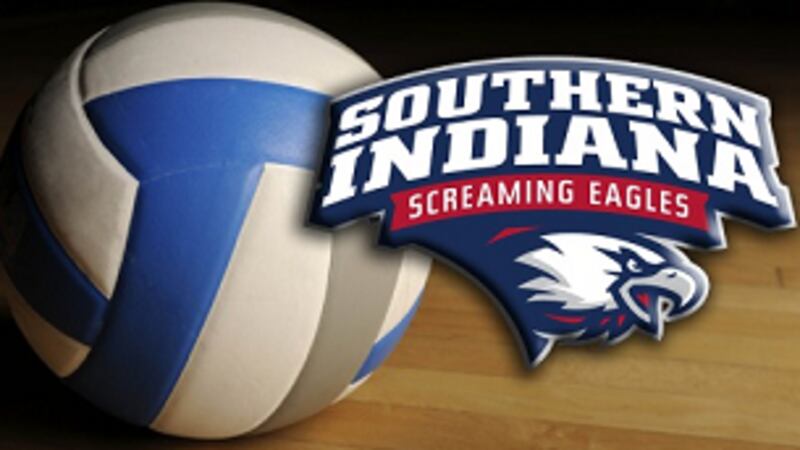 Published: Nov. 15, 2023 at 12:05 AM CST
EVANSVILLE, Ind. (WFIE) - University of Southern Indiana Volleyball (12-15, 8-8 OVC) has an opportunity to clinch an Ohio Valley Conference Championship berth but will need to take on the University of Tennessee at Martin (8-18, 6-10 OVC) on Wednesday at 6 p.m. and Thursday at 2 p.m. in its final regular season matches.
With a win, the Screaming Eagles can etch their name into the playoffs which will go from Monday, November 20 through Wednesday, November 22, and will be hosted by the highest seed which is to be determined.
Game Coverage
Information about USI Volleyball, including live stats, video, and audio broadcasts, is available on USIScreamingEagles.com.
Tickets
Admission is free, courtesy of Tri-State Orthopaedics.
Screaming Eagles Headlines:
Eagles Tame Lions
The Screaming Eagles took down the Lions of Lindenwood on the road with a pair of 3-1 victories. USI is now 7-1 all-time against Lindenwood and snapped their three-match winless streak going into the final week.
You Have To #OVCit
USI can clinch the postseason but will have the tall task of taking on UT Martin. The Eagles are tied for sixth and hold the tiebreaker over four of the tournament-eligible teams. USI will need to bounce back after last year's bout with the Skyhawks, dropping both matches on the road.
Magic Number 1
USI's number to clinch a tournament spot is just one as the Eagles only need to be a top-eight team in the conference to earn a berth. To clinch a tournament berth, USI will need to either: 1) win one against UT Martin, 2) have SIUE/ Little Rock split, or 3) hope Western Illinois loses out. The Eagles could finish as high as the three seed or as low as the eight seed if they clinch.
Anderson Nets Offensive POTW
Senior Leah Anderson was voted as OVC Offensive Player of the Week after her dominating performance against Lindenwood. Anderson posted a season-high 24 kills on Thursday before pounding down a team-high 18 kills on Friday. The contests resulted in her 11th double-double and seventh-straight double-digit kill performance.
1,000 Ways to Assist
Junior Carly Sobieralski surpassed 1,000 assists this season and became the sixth USI setter to earn this feat since 2000. Earlier this season, Sobieralski nabbed 1,000 career assists and is inching her way into the record book.
Throwing It Down(ing)
Junior Paris Downing has etched her name into the all-time USI Volleyball records. She now stands 25th all-time in total blocks with 209.
Anderson's Double Life
Senior Leah Anderson has earned 11 double-doubles this season and has posted six double-doubles in her last seven matches. She has also nabbed 24 double-digit kill matches and 12 games with double-digit digs.
USI By The Set
The Eagles are 12-15 in the first set and 10-17 in the third set this season. However, USI has boasted an 18-9 record in the second frame along with going 11-7 in the fourth. The Eagles have yet to win a fifth set, dropping all five opportunities.
OVC Leaderboard
In conference matches, USI stands third in aces/set (1.54) and hitting percentage (.207). In all matches within the OVC, USI ranks fourth in aces/set (1.61) and fifth in blocks per set (2.08), opponent hitting percentage (.199), and digs per set (15.96).
OVC Leaders
Senior Leah Anderson has her name in three categories, nabbing second in points/set (4.42) and third in kills/set (3.70) and aces/set (0.43). Senior Abby Bednar sits in fifth in aces/set (0.39) and eighth in points/set (3.87) and kills/set (3.12). Junior Carly Sobieralski ranks fourth in assists/set (9.54) while junior Paris Downing and sophomore Keira Moore round out the leaders with Downing posting the second-most blocks/set (1.08) and Moore standing eighth in digs/set (4.01).
About UT Martin
The Skyhawks go into the final week 8-18 overall and 6-10 in OVC play. UT Martin is on a four-match winless streak after dropping both matches to Little Rock last weekend. The Skyhawks are also looking to clinch a playoff spot and will need to sweep USI and have SIUE/Little Rock split their matches. The Skyhawks will need to continue their defensive abilities to win as they hold the second-fewest opponent aces/set (1.30) and fourth-most digs/set (16.30).
Leading the Skyhawks
Haeleigh Paulino leads the pack in the passing game with 569 assists and a 5.93 assists/set margin for ninth best in the OVC. Paulino also leads the team in aces with 23. Kayla Carrell boasts a 4.23 digs/set split which is seventh most in the conference. Olivia Saunders stands atop the Skyhawks in a pair of categories with 244 kills and 90 blocks.
Copyright 2023 WFIE. All rights reserved.