Jeff Lyons' internet superstar pet, 'Betty the Weather Cat' passes away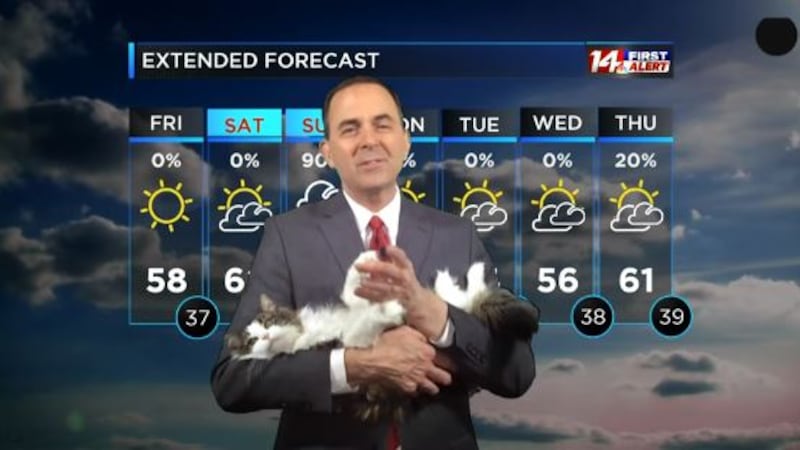 Published: Nov. 14, 2023 at 7:28 PM CST
EVANSVILLE, Ind. (WFIE) - Our 14 First Alert Chief Meteorologist Jeff Lyons shared that his cat Betty, who became an internet sensation during 2020, has passed away.
Jeff shared in a Facebook post that Betty passed away peacefully in his arms Tuesday morning.
He went on to share that Betty appeared in his window 16 years ago and was taken in as a part of the family.
During Jeff's time broadcasting from home during the 2020 pandemic, he held Betty in his arms on a few occasions while he would report the weather.
Little did Jeff know, but Betty was going to become an internet superstar and known to the world as 'Betty the Weather Cat.'
Betty's popularity rose as people began to find and share videos of Jeff reporting the weather with Betty in his arms.
Betty was featured in various online articles that included The Washington Post and People Magazine.
She gained a social media following with her own Instagram, where she has over 11,000 followers.
Jeff shared that he is so happy that Betty was able to bring some smiles during the dark time of the COVID 19 pandemic during 2020.
He says that Betty was a great cat and that she will be missed deeply.
Copyright 2023 WFIE. All rights reserved.