Dixon man wins $50K on scratch-off ticket
Published: Nov. 14, 2023 at 10:17 AM CST
DIXON, Ky. (WFIE) - An extra trip back to the gas station turned into a $50,000 Kentucky lottery win for a man in Dixon.
Larry Duncan said he doesn't normally play the lottery, but something told him to purchase a $50 Millionaire Club Scratch-off, the newest $50 KY Lottery ticket.
Duncan told lottery officials that his mother had just passed away a week prior.
Duncan had family in town visiting for the service and decided to stop at the Dixon Marathon to purchase a few tickets.
"I don't want to sound crazy, but I was saying, 'Mama, you're going to lead me to a winner,'" Duncan said.
He said he initially won $55, and then headed back home to be with his family.
The following day, while food was being prepared, Duncan said a key ingredient in a special pecan dessert dip was missing and so, he headed back to the Dixon Marathon to purchase it.
"I thought, we need some graham crackers," Duncan said. "I'm going to run up there and get a ticket, too! I was still talking to my mama, and I said, 'Mama, help me out.'"
Duncan said he was shocked after scratching off the ticket to reveal the $50,000 top prize.
"Something's going on here," Duncan said. "It was just shocking to me; you just don't expect it."
Duncan said once he returned home, he handed a bag with the graham crackers and the winning ticket inside to his sister in-law. A self-proclaimed prankster, Duncan said his family and wife, Yolanda, couldn't believe the big win.
"I walked in, and I was white as a ghost," Duncan said. "I'm kind of a big jokester so she [his sister-law] thought I was pulling her leg, I used to get those fake lottery tickets all the time."
That night, the couple drove to Louisville and stayed the night to claim their winnings at Lottery HQ the next morning.
As for the winnings, Duncan said he already knows how he's going to spend it.
"We have a 2014 Camaro, and I already told her, 'I'm buying a '24,'" Duncan said. "My intention was to buy one with or without, but this makes it a lot easier."
Larry and Yolanda walked away with a check for $35,750.
Dixon Marathon will receive $500 for selling the winning ticket.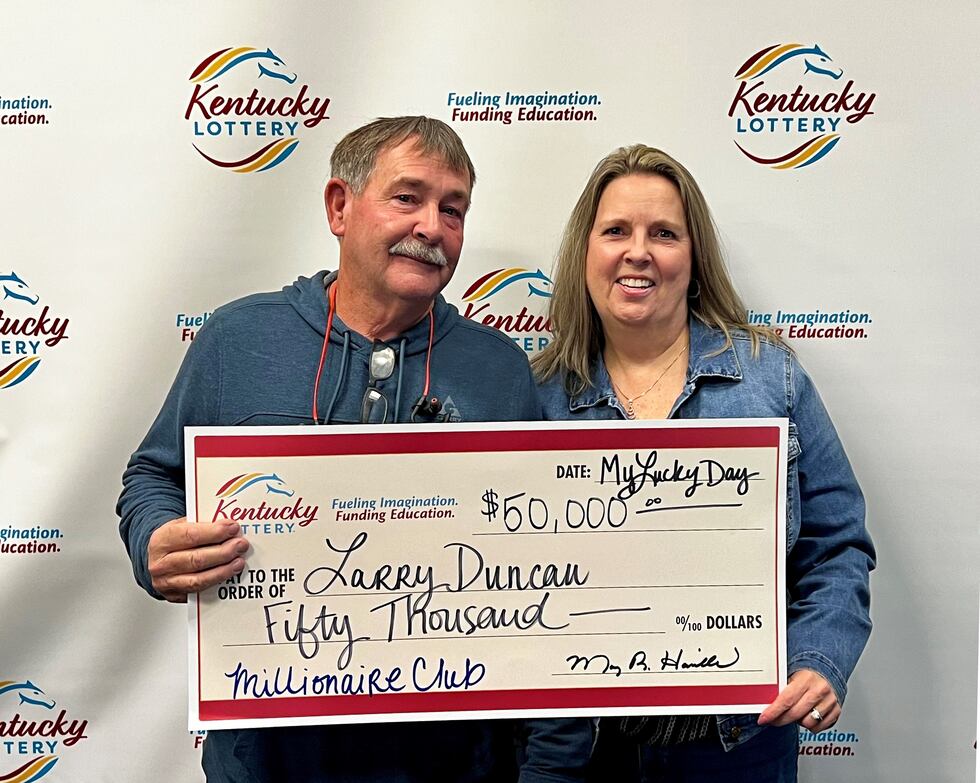 Copyright 2023 WFIE. All rights reserved.