Fact✓Check | Do Kentucky governor candidates' claims on education make the grade?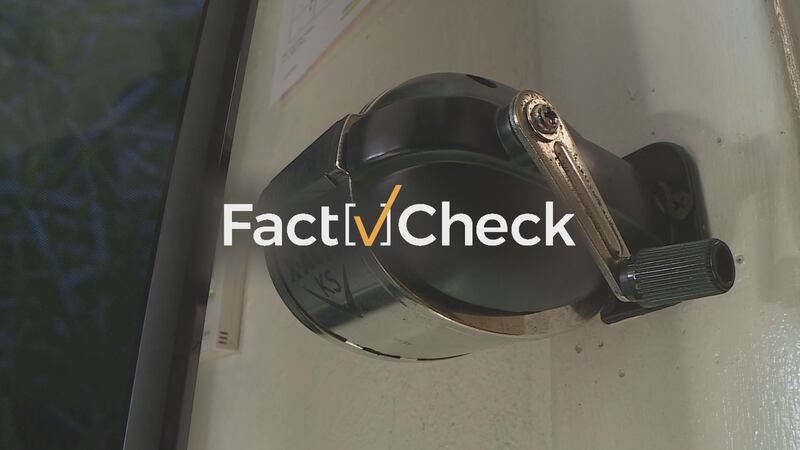 Published: Oct. 17, 2023 at 2:34 PM CDT
FRANKFORT, Ky. (WKYT) - "We'll remember in November" was the vow of Kentucky teachers to make state leaders pay at the ballot box for changes made to their pensions.
In November 2019, they did remember - and incumbent Gov. Matt Bevin, a Republican, lost to Democrat Andy Beshear.
Now, as the commonwealth approaches its next election for governor - with Gov. Beshear seeking re-election against Republican challenger Daniel Cameron, the current attorney general - WKYT viewers ranked education as their second-highest priority when casting their ballots this fall, according to a WKYT Investigates survey.
More Campaign 2023 Fact✓Check coverage:
WKYT found that what the campaigns and other groups may want to talk about does not always line up with what voters find most important. But with education proposals floated by the two candidates - and TV ads that touch on the issue - this is one topic that voters and campaigns agree is important.
Beshear unveiled his budget priorities in a plan that he called "Education First," while Cameron released a series of education proposals - including, most recently, the "Cameron Catch-Up Plan," designed to make up for post-COVID learning loss.
The ABCs of two contrasting proposals
Gov. Andy Beshear's "Education First" budget plan includes, according to a news release:
an 11% pay raise for teachers and all other school employees

fully funding pre-K for all four-year-olds

fully funding student transportation

no health insurance increase for school employees

a teacher student loan forgiveness program, with a maximum $3,000 annual award for each year of employment in a Kentucky public school as a teacher

funding to support professional development and to replace textbooks and other instructional resources

assembling a staff at regional Social Emotional Learning institutes to provide access to training on student mental health

$100 million in one-time grant funds to build or improve career and technical education centers
"Each of my years as governor we have proposed a robust budget, significant funding for public education," Gov. Beshear said August 16 in unveiling his proposal, "and while the General Assembly has done some they have not nearly gone far enough."
Fact✓Check: It is true that the Republican-led General Assembly has largely forged its own path in making education policy while Gov. Beshear has been in office, despite the governor's promises to educators. As the Associated Press noted, the two-year budget passed in 2022 funded full-day kindergarten and poured money into teacher pensions and infrastructure, and while it also increased the state's main funding formula for K-12 schools, the amount was considerably lower than Beshear's proposal.
Related Campaign 2023 coverage:
In releasing his education plan, Daniel Cameron emphasized what he says is a higher probability of garnering support from state lawmakers.
"In advance of announcing this policy and proposal today, I did what a leader should do: I reached out to members of our legislature to get their buy-in, to get their interest, to get their attention," he said August 15 at a news conference.
The "Cameron Catch-Up Plan" would, according to a memo:
create an optional 16-week math and reading tutoring program for students who have fallen behind grade level, provide teachers a stipend for participating in summer and after-school tutoring, partner with state universities to recruit students to tutor, and recruit other adults to participate as tutors

re-introduce disciplinary suspension practices

support the science of reading/phonics-based instruction

ensure districts comply with school resource officer requirements

add a reading interventionist to every school district

focus on getting chronically-absent students back in school

reduce "administrative bloat," red tape and "bureaucratic headaches"

recruit new and retain current teachers by increasing the base starting rate for new teachers to $41,500, introducing a stipend for student teaching, establishing a discretionary fund for superintendents to pay experienced teachers, and recruiting former teachers and new mid-career professionals
Despite its numerous ideas, what has been released of the Cameron plan so far lacks many specifics about how the governor and legislature would work to achieve many of the less-concrete goals it lays out.
During the primary, Cameron also unveiled an education framework that vowed to:
"Defend Kentucky's Values. I will end the teaching of Critical Race Theory and stop the Kentucky Department of Education from promoting any curriculum or policy that encourages the teaching of woke ideologies in our K-12 public-education system. Students should go to school to learn the skills necessary to be productive citizens, not to distrust or fear their classmates because of the color of their skin or to have identity politics forced on them."

"Raise Teacher Pay. In my first budget I will propose legislation that raises the starting-pay for teachers and ensures that no teacher's salary is below the new starting-pay benchmark. I will also propose a bill giving a stipend to every teacher in Kentucky to help offset the personal expenses they incur purchasing school supplies."

"Reduce Bureaucracy. Burdensome paperwork and bureaucrats have made teachers' jobs harder. In my Administration, I will work with educators and administrators to reduce this burden. Our teachers should be focused on teaching, not red tape."

"Keep Politics Out Of The Board Of Education. I will only appoint members to the Kentucky Board of Education who understand the needs of teachers, refuse to allow our students to be indoctrinated, and welcome parents' involvement. I will not appoint members who favor bureaucracy and woke virtue-signaling over the success of our kids."
Fact✓Check: Kentucky Education Commissioner Jason Glass testified in front of state lawmakers in 2021 that "KDE is not aware of any districts or teachers specifically teaching critical race theory and neither CRT nor terms associated with the theory appear in our state standards."
Fact✓Check: Teacher pay
Both campaigns have cited teacher salary statistics from the National Education Association, the country's largest teacher union.
The average starting teacher salary for school year 2021-22 in Kentucky was $38,010, according to the NEA. That ranks the commonwealth 44th out of 51 states and the District of Columbia. The national average starting teacher salary was $42,844.
Cameron's proposal would increase the base starting rate to $41,500 - an increase of about 9%. Beshear's 11% across-the-board raise proposal would boost it to $42,191.
Both proposals would move Kentucky roughly to the middle of the pack (24th with Beshear's proposal and 27th with Cameron's) in starting teacher salaries - if other states did not make similar or larger changes, as well.
[NEA | Educator pay and student spending: How does your state rank?]
Yet: "Policies that focus solely on starting pay to recruit new teachers ignore the financial needs of experienced teachers and fuel the teacher shortage by failing to tackle the retention issue," the NEA says. So what would the two proposals mean for experienced teachers?
Kentucky's average teacher salary (as of 2021-22) was $54,574, according to NEA data. That ranked Kentucky 40th in the country. The national average was $66,745.
Beshear's plan would boost all teacher pay by 11%, which would raise the average salary to about $60,577. That, though still below the national average, would rank Kentucky 25th in the country (although again with the caveat that other states not make similar or larger changes that would shuffle the rankings, as well).
It is less clear what exact impact Cameron's plan would have on the overall average and in districts that already have starting teacher salaries higher than his suggested benchmark. His proposal would specifically raise only starting teacher salary, but he expects it would have a ripple effect by lifting pay for other teachers higher up on the scale.
Fact✓Check: Test scores
A big focus of Cameron's education push is raising test scores, a central part of his "catch-up" plan and a TV ad titled "Education."
"Every metric by which we measure our students has seen a drop under Beshear's leadership," Cameron said in an August news conference. "In national assessments since 2019, we have declined in every single tested category."
[THE NATION'S REPORT CARD | View Kentucky's state profile and detailed scores]
The national assessments being referred to are the National Assessment of Educational Progress tests, which most often test fourth- and eighth-graders in the subjects of math and reading.
Kentucky test scores have indeed fallen during Beshear's administration, as Cameron claims - particularly from their pre-COVID levels in 2019 to their post-COVID levels in 2022. But data from The Nation's Report Card also shows that NAEP scores were in decline before the pandemic and before Beshear took office.
The scores:
In 2022 the average math score of fourth-grade students in Kentucky was 234. This was not significantly different from the national average of 235. (The scale ranges from 0 to 500.) Going back to 1992, math scores for fourth-graders in Kentucky peaked in 2015 at 242. In 2017 and again in 2019 - the last year assessed prior to COVID - the average score was 239. (It dropped five points from pre- to post-COVID.)

In 2022 the average reading score of fourth-grade students in Kentucky was 217. This was not significantly different from the national average of 216. Going back to 1992, reading scores for fourth-graders in Kentucky peaked in 2015 at 228. In 2017 it dropped to 224. In 2019 it dropped further to 221. (It dropped four points from pre- to post-COVID.)

In 2022 the average math score of eighth-grade students in Kentucky was 269. This is four points below the national average of 273, a statistically significant difference. Going back to 1990, math scores for eighth-graders in Kentucky peaked in 2011 at 282. In 2013 the average was 281. In 2015, 2017 and 2019 the average score was 278. (It dropped nine points from pre- to post-COVID.)

In 2022 the average reading score of eighth-grade students in Kentucky was 258. This was not significantly different from the national average of 259. Going back to 1998, reading scores for eight-graders in Kentucky peaked in 2013 at 270. It dropped to 268 in 2015, 265 in 2017 and 263 in 2019. (It dropped five points from pre- to post-COVID.)
Only one assessment in 2022 - average eighth-grade math scores - shows that Kentucky scores are significantly lower than the scores of the national public. The rest are not significantly different, meaning, despite the drop, Kentucky's scores are largely in line with the overall average.
One looming issue: School choice
School choice is a polarizing issue - and one that looms large ahead of the 2024 legislative session in Kentucky. Advocacy groups are spending millions on TV ads in the governor's race, the Associated Press reports.
The state has already authorized charter schools, but questions remain about private school vouchers and charter funding.
As governor, Beshear has vetoed legislation on charter schools and private school-related tax credits. (The General Assembly overrode his veto on the measures.)
"I'm opposed to any school choice amendment and any voucher program – anything that would take dollars from our public schools and send them to unaccountable private schools," Beshear said last week in an interview with the editorial board of the Lexington Herald-Leader.
Cameron's education proposals do not specifically mention school choice, and he has not talked about it much on the campaign trail.
Asked about it at an August news conference, he answered that he supports "expanding opportunities and choices around Kentucky" but did not directly respond to the question.
However, during the lightning round of a GOP primary debate hosted by Spectrum News 1 on March 7, Cameron answered "yes" when asked if he supports charter schools and public school vouchers. (There was no time for elaboration.)
Kentucky Democrats have characterized Cameron's silence on the topic as intentionally downplaying a "wildly unpopular" opinion in supporting school choice initiatives that they say would benefit private schools at the expense of public ones.
Fact✓Check: A January poll found that 54% of Kentuckians expressed support when asked: "Do you support or oppose amending the Kentucky constitution to permit the use of public funds to allow parents to choose the learning environment that is best suited for their children, whether that is a public or nonpublic school?"
Yet the issue has even splintered support among the state's Republican lawmakers, the AP notes. In 2022, 22 House Republicans joined Democrats to oppose a charter school bill.
Last year the Kentucky Supreme Court ruled unconstitutional a 2021 law that created tax credits for donations that supported private school tuition. As attorney general, Cameron's office defended that law.
Advocates have pledged to put a school choice constitutional amendment on the ballot as a priority for the 2024 legislative session. (A previous effort in 2023 stalled.) Governors do not have veto power in that process.
The Kentucky Debate
Tune in next week to The Kentucky Debate, hosted by WKYT. Beshear and Cameron have accepted invitations. WKYT Political Editor Bill Bryant will serve as moderator.
The Kentucky Debate airs 7-8 p.m. Tuesday, Oct. 24 on WKYT.
As part of WKYT's ongoing dedication to Fact✓Check coverage in the closing days of Campaign 2023, Investigative Reporter Garrett Wymer will break down claims from the debate later that night - and throughout the remainder of the week - on WKYT News.
Copyright 2023 WKYT. All rights reserved.