Fact✓Check | Kentucky governor candidate campaigns' claims on the economy
The economy might be an issue close to your heart, but it's not one we're seeing in campaign ads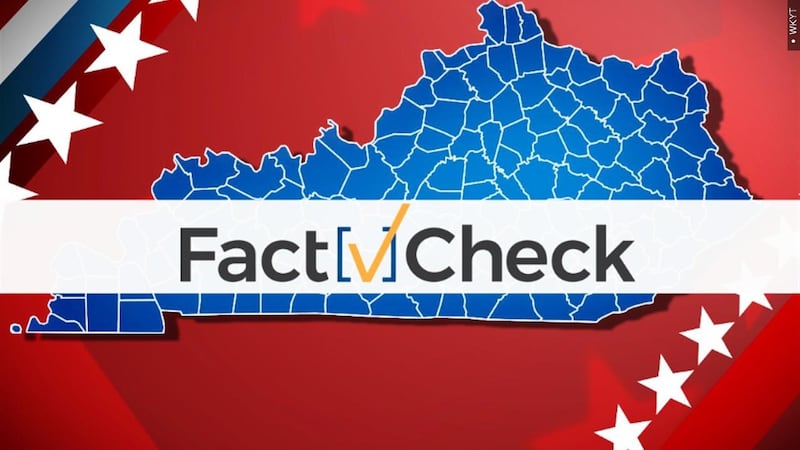 Published: Oct. 10, 2023 at 5:10 PM CDT
LEXINGTON, Ky. (WKYT) - We have been carefully watching results come into our WKYT Fact✓Check survey and overwhelmingly, viewers are telling us the number one issue they care about is the economy, cost of living, and inflation.
Gov. Andy Beshear and Attorney General Daniel Cameron do agree they want to foster job growth. However, they are divided on how to do it.
Cameron's plan for the state called his "Vision for Prosperity," focuses on small and mid-sized business growth. He wants improved workforce programs and coordination between the private and public sector. He also told WKYT's Bill Bryant, on a recent episode of Kentucky Newsmakers, that he's the only candidate running who wants to eliminate the income tax.
"Let me tell you what Andy Beshear did. Despite the fact that we have record high inflation and it's harder to buy those things that I talked about earlier, he vetoed tax cuts for hard-working Kentuckians," said Cameron.
Let's Fact✓Check this.
The governor did veto 2022′s House Bill 8 which lowered the state's income tax and put a plan in place to eventually eliminate it. It also added 35 newly taxable services, like personal fitness and cosmetic surgery. "The General Assembly should be supporting Kentucky's growing industries and events that promote the Commonwealth, not targeting them with tax increases," Beshear said in a 2022 statement about his veto decision.
The Republican super majority in the legislature overrode that veto, and they made cutting income tax even further a top priority in the next legislation session. The governor did not veto House Bill 1; he signed that one, cutting individual tax rates from 4.5 to 4 percent. He said back at the time, he had concerns but was signing to provide relief from inflation.
The bill the governor signed into law, House Bill 1, did come with criteria that had to be met for the income tax to continue to drop. However, the state didn't meet that criteria. So, as the law stands right now, the tax rate will not drop in 2025. There is an already scheduled cut in January of next year.
Copyright 2023 WKYT. All rights reserved.