Police investigating after juvenile shot near Kentucky Wesleyan College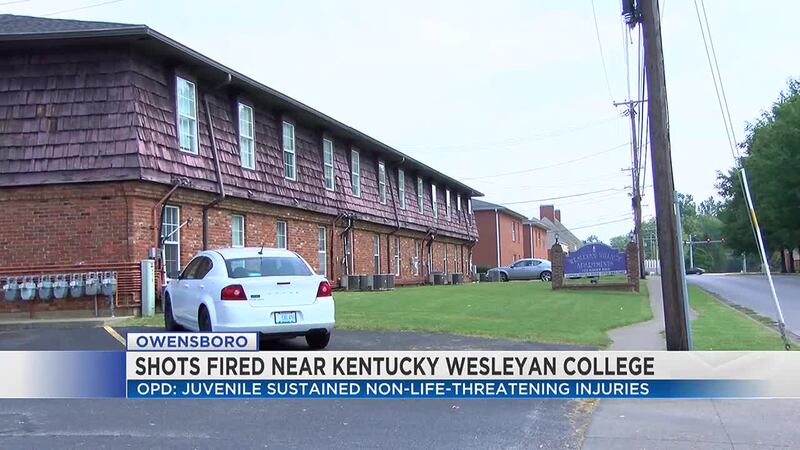 Published: Sep. 21, 2023 at 6:46 AM CDT
OWENSBORO, Ky. (WFIE) - Police say a juvenile was shot Wednesday night in Owensboro.
They say happened in the 700 block of Scherm Road, right next to Kentucky Wesleyan College.
Police said the victim wasn't on scene when they arrived but showed up at Owensboro Health Regional Hospital a short time later.
Detectives said they tried to interview the juvenile, but he refused to cooperate or identify where he was shot.
OPD Public Information Officer Dylan Evans said they believe he was in the area for criminal activity and exchanged gun fire with other people.
A Kentucky Wesleyan College freshman said he lives next door to where the incident happened, and was sleeping when the sound of gunshots startled him.
"I heard the first two and my head was pretty close to the window, so my first reaction was get back," he said.
Evans said there was some property damage near the apartments. According to the KWC freshman, that damage included a bullet hole in his car.
"It's got a single hole in the hood of it," he said.
The college freshman said he only moved to the apartment the month before when he started school, but knowing the shooting incident happened so close to campus has him worried.
"My first thought was how we're right across the street from the school with kids around and stuff. I know there's kids who run around here and scooter around here," he said.
Vice President of External Relations at Kentucky Wesleyan College Eddie Kenny said in a statement to 14 News that they immediately sent out an alert to students.
"We were immediately in contact with the Owensboro Police Department regarding campus safety and security," he said. "They assured us the threat was clear following the initial incident, and we sent our campus alert to communicate with our campus community regarding the need to be vigilant and mindful."
Kenny said there was no need to lock down the campus.
Anyone with additional information can call OPD at 270-687-8888, or leave an anonymous tip with Crime Stoppers at 270-687-8484.
Copyright 2023 WFIE. All rights reserved.