Measure of inflation closely tracked by Fed increased in April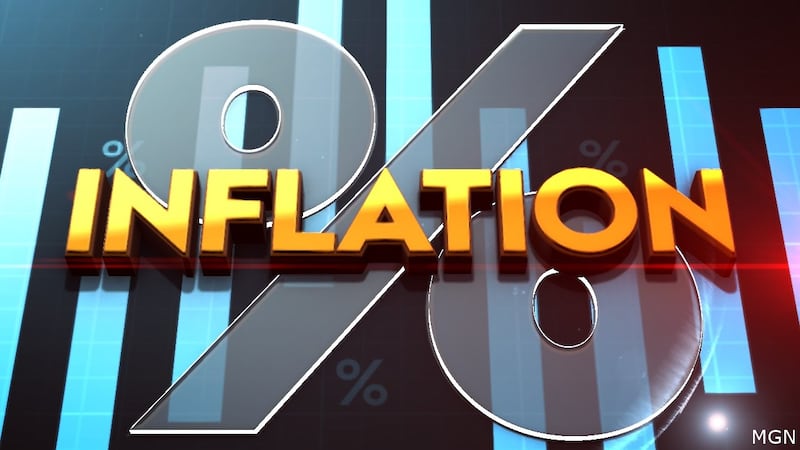 Published: May. 26, 2023 at 7:37 AM CDT
|
Updated: May. 26, 2023 at 9:53 AM CDT
WASHINGTON (AP) — A key index of U.S. prices ticked higher in April, and consumer spending rebounded, a sign that inflationary pressures in the economy remain high.
The index, which the Federal Reserve closely monitors, showed that prices rose 0.4% from March to April. That was much higher than the 0.1% rise the previous month. Measured year over year, prices increased 4.4% in April, up from 4.2% in March. The year-over-year figure is down sharply from a 7% peak last June but remains far above the Fed's 2% target.
Friday's report from the government also showed that despite rising prices, consumers remain buoyant. Their spending jumped 0.8% from March to April, the biggest increase since January. Much of the increase was driven by spending on new cars, which soared 6.2%. Among other items, Americans also bought more computers, gasoline and clothing.
Despite longstanding predictions of a forthcoming recession, Friday's data underscored the U.S. economy's surprising resilience. Consumer spending, which drives most of the U.S. economy, has been bolstered by solid job gains and pay increases. The economy, which grew at a sluggish 1.3% annual rate from January through March, is projected to accelerate to a 2% pace in the current April-June quarter.
At the same time, the persistence of high inflation is complicating the Federal Reserve's interest rate decisions. Chair Jerome Powell has signaled that the Fed will likely forgo a rate hike when it meets in mid-June, after 10 straight increases in the past 14 months. But a vocal group among the Fed's 18-member interest-rate setting committee has pushed for more rate hikes later this year on the grounds that inflation isn't slowing quickly enough.
"Inflation is too sticky for the Fed to commit to an extended pause," said Michael Gapen, U.S. economist at Bank of America Securities. "Even if the Fed skips June, it will keep July in play" for a rate hike.
Among individual items, grocery prices slipped 0.1% in April, a second straight decline. By contrast, gas and other energy costs jumped 2.4%.
Fed officials particularly watch a category of prices called core inflation, which excludes volatile energy and food costs and is considered a better gauge of underlying inflation. Core prices rose 0.4% from March to April, the same as in the previous month, and 4.7% from 12 months earlier. The year-over-year core inflation figure has changed little since it first touched 4.6% in December.
Some economists foresee inflation easing in the coming months. Omair Sharif, founder of Inflation Insights, noted that a few pricing quirks fueled April's bigger-than-expected rise in core prices and said he believed they won't likely persist. Legal services, for example, skyrocketed 3.8% from March to April. That was the sharpest such monthly jump on records dating to 1959.
Though used car prices jumped 4.7% last month, Sharif noted that measures of wholesale used car costs are declining and suggested that they will help slow overall inflation by June.
"This is kind of the storm before the calm," he said.
Another sign that the economy remains solid came in a separate report Friday. It showed that a measure of businesses' investment in durable factory goods jumped 1.4% in April — evidence that companies have continued to spend despite higher inflation and borrowing costs given still-steady consumer demand.
The inflation gauge that was issued Friday, called the personal consumption expenditures price index, is separate from the government's better-known consumer price index. The government reported earlier this month that the CPI rose 4.9% in April from 12 months earlier.
The two indexes differ in several ways. Rents carry twice the weight in the CPI that they do in the PCE. And the PCE index seeks to account for changes in how people shop when inflation jumps, such as when they shift from pricey national brands in favor of cheaper store brands.
The latest inflation figures arrive as Fed officials are noisily debating their next steps. Several policymakers have said they favor raising rates even higher in the coming months. But most Fed watchers expect the central bank to forgo another hike at its next meeting in mid-June.
Powell said last week that after raising its benchmark rate to a 16-year high of about 5.1%, Fed officials can afford to wait and see how those increases have affected the economy. It can take a year or more for rate hikes to significantly slow the job market and the overall economy.
The Fed's ultimate goal is to make borrowing costlier for consumers and businesses and thereby reduce spending, growth and inflation. Its rate increases have led to a more than doubling of mortgage rates and elevated the costs of auto loans, credit card borrowing and business loans. They have also heightened the risk of a recession, which most economists predict will begin sometime this year.
Inflation is a big reason why millions of Americans have expressed a gloomy outlook about the economy, even though the unemployment rate is at a half-century low of 3.4% and many workers have received solid pay gains.
Yet a Federal Reserve report this week found that, on average, inflation has outstripped those wage increases and left many people worse off. At the end of last year, just below three-quarters of Americans said they were "doing OK" financially or living comfortably. That marked a drop of 5 percentage points from the previous year and was among the lowest such levels measured since the survey began in 2016.
Copyright 2023 The Associated Press. All rights reserved.