Aces Baseball begins MVC Tournament Wednesday morning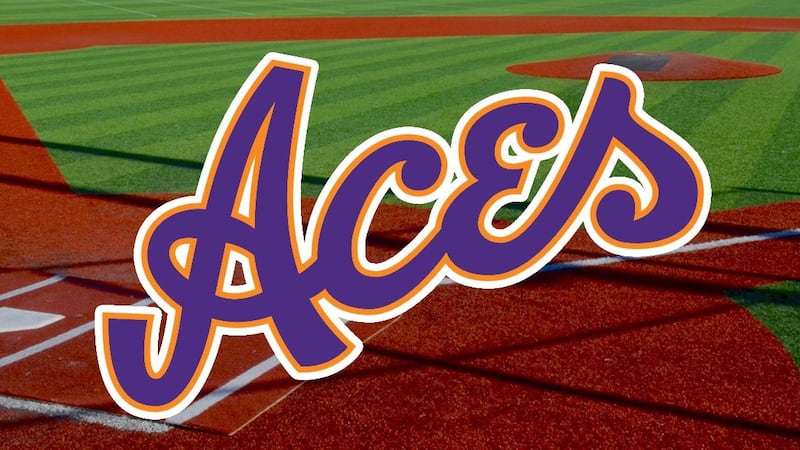 Published: May. 23, 2023 at 11:40 PM CDT
EVANSVILLE, Ind. (WFIE) - The Missouri Valley Conference baseball tournament will begin on Wednesday morning for the University of Evansville baseball team, as the Purple Aces will battle long-time rival Southern Illinois in game three of the tournament at 8 a.m. central time at Bob Warn Field in Terre Haute, Indiana. Every game of this week's tournament can be seen live on ESPN+, and every UE game can be heard in the Tri-State area on 107.1 FM-WJPS and the Old National Bank/Purple Aces Sports Network from Learfield.
Evansville will enter the MVC Tournament as the No. 4 seed, after going 33-22 during the regular-season, including tying SIU in the league standings for third place with a 15-12 Valley record. Evansville won six of its nine MVC series this year, including winning all three Valley series during the month of May. SIU was one of the three teams to take a series from Evansville, as the Salukis won a pair of close contests on Saturday and Sunday after UE posted a 10-2 win on Friday night to earn the series victory.
Evansville is led into the post-season by six Purple Aces who earned all-MVC honors on Monday night in a vote of the league's coaches. Fifth-year first baseman Chase Hug, junior second baseman Kip Fougerousse, and graduate outfielder Eric Roberts earned first team all-Valley honors, with redshirt junior closer Nate Hardman capturing second team honors. Junior shortstop Simon Scherry and junior starting pitcher Nick Smith both earned honorable mention all-MVC status.
Hug currently leads Evansville in hitting at .315, while Roberts leads UE and the MVC in both home runs (21) and RBI (58). Both men rank in the top 10 of 10 different offensive categories entering the Valley Tournament, and Roberts is trying to become just the second Purple Ace to lead the MVC in both home runs and RBI, joining Tanner Craig in 2020.
Southern Illinois will enter this week's tournament as the No. 3 seed after finishing the regular-season at 30-25 overall and 15-12 in the MVC. The Salukis had six players earn all-Valley accolades as well, led by second team all-MVC performers Steven Loden at second base, catcher Cole Christman, outfielder Pier-Olivier Boucher, and starting pitcher Jake Combs. Boucher currently leads SIU with a .333 average, while Loden ranks second in the MVC with 18 home runs.
Wednesday morning's meeting will mark the 12th time in which UE and SIU have met in the MVC Tournament. The Salukis hold a narrow 6-5 edge at the conference tournament over UE, including posting an 8-5 win over Evansville in last year's MVC Tournament. The winner of Wednesday morning's game will advance on to face the winner of No. 2 Missouri State and either No. 5 Murray State or No. 8 Valparaiso on Thursday night at 6:30 p.m. central. The loser of Wednesday morning's contest will return on Thursday morning to battle in an elimination game at 8 a.m. central time.
Copyright 2023 WFIE. All rights reserved.