'Most loving, caring person': Family remembers Henderson woman killed in Louisville bank shooting
Published: Apr. 12, 2023 at 11:20 PM CDT
|
Updated: Apr. 13, 2023 at 12:18 AM CDT
LOUISVILLE, Ky. (WFIE) - One family from the Tri-State gathered for a prayer vigil in downtown Louisville on Wednesday, mourning the loss of their mother, grandmother, daughter, sister, niece and friend.
The vigil was in honor of the victims of a mass shooting earlier this week that left five people dead.
Henderson native Juliana Farmer moved to Louisville just a few weeks ago to start her new job at Old National Bank.
14 News spoke with Farmer's mother and three children as they are working to wrap their minds around her loss.
"I'm hurt, severely hurt," said Alia Chambers, Farmer's daughter. "I just lost my best friend. That man took my mama away and I can't get her back. I couldn't ask for a better momma."
Farmer relocated to the Louisville area to be closer to her daughter and four grandchildren.
"To get her snatched away from me, broke my heart," Chambers said. "I just want her back."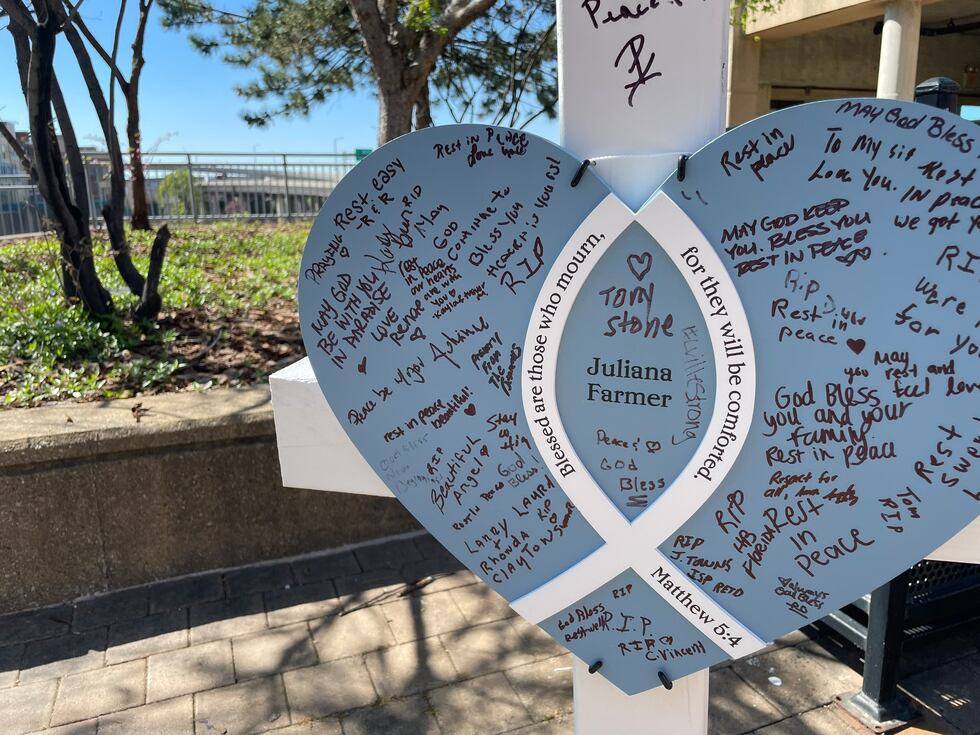 Farmer is remembered for the smile she would bring into every room.
"The most loving, caring person," said Damarius Dixon, Farmer's son. "Strong, independent, the best mother you could ever ask for. There every time I needed her."
Her young grandchildren are still trying to understand the tragedy.
"She was always kind," Farmer's grandson said. "She was a wonderful person that would always take care of me."
Farmer was excited to welcome her fifth grandchild in September – a granddaughter due on what would have been Farmer's 46th birthday.
"They say a person gets taken out of this world for another person to get brought in," said Jyeon Chambers, Farmer's son. "So my daughter is going to be her all over again."
The family says they are appreciative of the support and love the community has given them. Farmer's mother is ready for one thing.
"I'm just ready to take my baby home," she said.
[Gofundme for Juliana Farmer's family]
Farmer was a 1995 graduate of Henderson High School and lived in the city for the majority of her life.
As of Wednesday, her funeral arrangements have not been announced.
Copyright 2023 WFIE. All rights reserved.