Early voting starting next week at EVPL
Published: Mar. 31, 2023 at 11:54 AM CDT
EVANSVILLE, Ind. (WFIE) - The Evansville Vanderburgh Public Library will host Early Voting, also known as Absentee Voting in Person, at four EVPL locations.
It starts Tuesday, April 4 at EVPL Central, and April 24 at EVPL North Park, EVPL Oaklyn, and EVPL Red Bank.
Circuit Court Clerk Carla Hayden wanted to make the public aware the McCullough library voting center will be moved to Washington Square Mall, as well as the days the other library locations will be available.
"We'll remind people that the early voting at the libraries is only one week this election, said Circuit Court Clerk, Carla Hayden. "That was a decision made several years ago by the election board. So it will just be one week before the election at the library locations."
The Central Library Voting Center will open from 9 a.m. to 5 p.m., which has changed from previous years to better accommodate the libraries hours.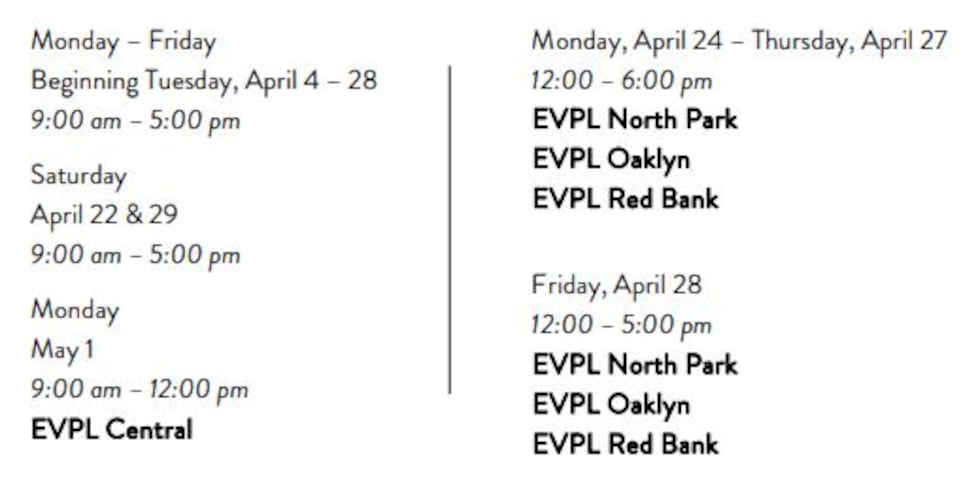 Voters can register or check their voting status at https://indianavoters.in.gov/.
While the library is an early voting site, EVPL is not a polling place on Election Day.
Copyright 2023 WFIE. All rights reserved.