Bills' Hamlin faces long recovery, family spokesman tells AP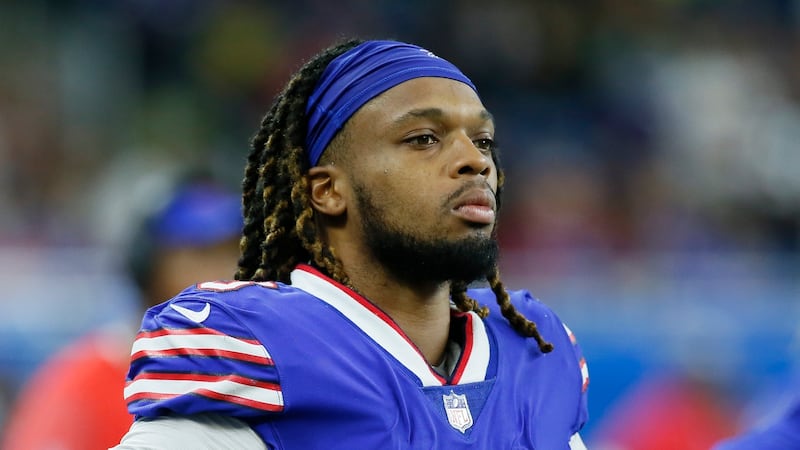 Published: Jan. 20, 2023 at 3:18 AM CST
ORCHARD PARK, N.Y. (AP) — Remarkable as Damar Hamlin's recovery has been, the Buffalo Bills safety still faces a lengthy rehabilitation some three weeks after going into cardiac arrest and needing to be resuscitated on the field during a game in Cincinnati, his marketing representative told The Associated Press on Thursday night.
"Damar still requires oxygen and is having his heart monitored regularly to ensure there are no setbacks or after effects," Jordon Rooney said. "Though he is able to visit the team's facility, Damar is not in position to travel often, and requires additional rest to help his body heal."
Rooney provided the update to emphasize Hamlin still faces hurdles since being discharged from Buffalo General Medical Center on Jan. 11. Hamlin's release came five days after his doctors said the player was breathing on his own, walking, talking and showing no signs of neurological damage.
Rooney's update also gave perspective to comments made by Bills coach Sean McDermott, who on Wednesday said Hamlin has begun making regular visits to the team's facility. McDermott, however, stressed the 24-year-old was taking "a baby step at a time," while adding, Hamlin is "dipping his toe back in here and getting on the road to just getting back to himself."
Hamlin has not yet made a public appearance except for a photograph linebacker Matt Milano posted on his Instagram account of his teammate at the Bills facility on Saturday. And he's not yet spoken publicly except for posting messages on his social media accounts.
Rooney said Hamlin is being watched over by his parents and "remains very upbeat and grateful for the support he's received from his teammates and coaches, Bills Mafia and people from around the world." That outpouring of support has led to Hamlin's charitable foundation, Chasing M's, raising nearly $9 million in donations.
Without saying from where, he added, Hamlin will be cheering for the Bills on Sunday, when Buffalo hosts Cincinnati in an AFC divisional playoff.
Hamlin live-tweeted while watching Buffalo's 35-23 season-ending win over New England from his hospital bed at the University of Cincinnati Medical Center on Jan. 8. Last weekend, he live-tweeted while watching from home the Bills' 34-31 win over Miami in a wild-card playoff.
The game against Cincinnati carries additional significance. It marks the first meeting between the two teams since their game was canceled on Jan. 2, when Hamlin collapsed after being struck squarely in the chest while making what appeared to be a routine tackle of Bengals receiver Tee Higgins.
Hamlin's family and Bills quarterback Josh Allen have defended Higgins in saying he shouldn't be blamed for what happened.
On Thursday, Higgins said he couldn't be more appreciative of the family's support, while expressing hope Hamlin could attend the game so the two could meet.
"Just be happy to see him," Higgins said. "I haven't really spoken to him. Just letting his family do what he needs to do with all his loved ones."
Also on Thursday, New York Gov. Kathy Hochul extended her support to Hamlin during a phone call with the player. In a message posted on her Twitter account, Hochul referred to Hamlin as "an inspiration," and let him know "the hopes and prayers of 20 million New Yorkers have been with him throughout his recovery."
Hamlin, who is from the Pittsburgh area, replied by writing it was good meeting Hochul and he was "excited to see how our collaborations in the future will help and affect so many."
___
AP Sports Writer Mitch Stacy in Cincinnati contributed to this report.
___
AP NFL: https://apnews.com/hub/nfl and https://twitter.com/AP_NFL
Copyright 2023 The Associated Press. All rights reserved.