Princeton welcomes home WNBA champion Jackie Young
Published: Sep. 24, 2022 at 3:33 PM CDT
|
Updated: Sep. 24, 2022 at 11:42 PM CDT
PRINCETON, Ind. (WFIE) - The city of Princeton gave a warm welcome to a hometown hero on Saturday afternoon.
City leaders organized an escort in honor of Jackie Young and the Las Vegas Aces winning the WNBA championship, providing the community with an opportunity to show their support.
"An athlete that you only see once in a lifetime, and we're very, very proud," Princeton Mayor Greg Wright said. "Her talent is only surpassed by her big heart and the way she gives back to her community."
Plenty of people lined the streets of downtown Princeton to see their basketball star return to Gibson County.
"They've supported me my whole career, I'm super thankful for them," Young said. "They always put on a show whenever we have a parade and I just have to thank Princeton for even wanting to do that."
The city is rather small, but Young says they always show their support in a big way.
Mayor Wright said they started planning for Saturday's event immediately after the buzzer sounded in Game 4 of the WNBA Finals this past weekend.
"She's an inspiration to not only student-athletes, but also to young people as a whole," Mayor Wright said. "Some of the things it shows that however hard you want to work is how far you'll go in life and she proves that on a daily basis."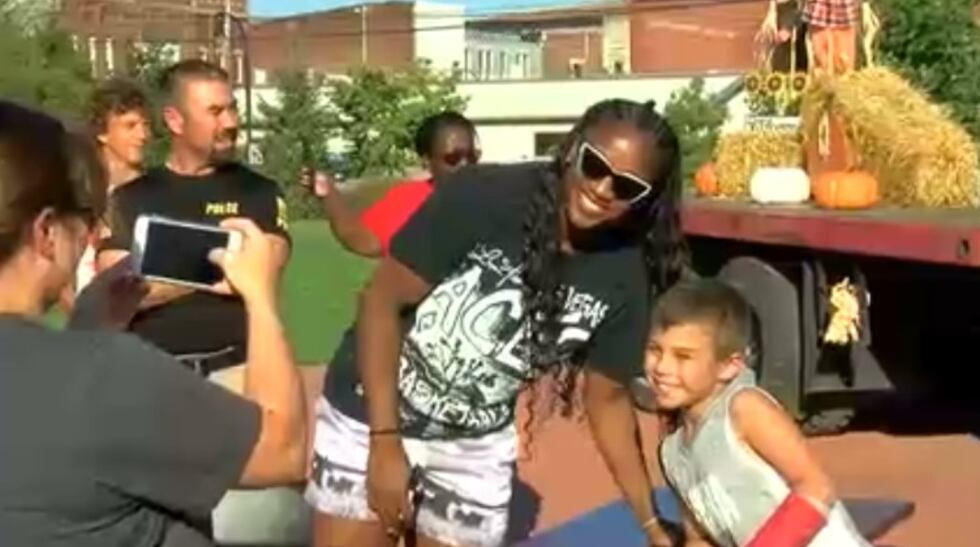 The 2018 national champion with Notre Dame always remembers her roots in southern Indiana, saying she enjoys coming back home to a community full of support. In some instances, many in the area even see her as a role model.
"I was once that little girl, I always try to be a good example for them," Young said. "I try to show them that with hard work and dedication, you can do anything you set your mind to. I just try to take the time out for the kids and give them a little bit of my time."
Young's family, much of whom are also Princeton natives, were in the escort.
"I saw her grow since she started third or fourth grade," Jackie's uncle, Stefan Young said. "And she's just strived to get better all the time, and here she is."
Stefan says that Jackie's tireless work ethic and dedication have paved the way for her success.
"She's worked hard to get where she's at, she believes in her, she believes in her teammates, her coaches," Stefan said. "She just works hard and does a great job."
14 News asked Mayor Wright about the sign that people see whenever they drive into Princeton, highlighting the gold medal that Jackie won in the 2020 Tokyo Olympics, and whether it will need any updating.
"If you started listing her accomplishments on a sign coming into Princeton, that thing would look like a billboard," Mayor Wright said. "It's just unbelievable some of the things she's been able to do. A state title holder in basketball, a national championship at the University of Notre Dame, an Olympic gold medal and now the WNBA championship. Very, very proud of what she's accomplished."
The large presence of young athletes proved Jackie remains a strong inspiration in the Princeton and Gibson County community.
"Great role model for younger girls," Stefan said. "And the thing that she's going to stress the most is hard work, do well in school, put family first."
On Tuesday, a celebration parade was held for Young and her teammates in Las Vegas, commemorating the Aces' first title in franchise history.
You can watch our livestream of Saturday's escort in the video below:
Copyright 2022 WFIE. All rights reserved.