Car crashes into Henderson house
Published: Nov. 26, 2021 at 5:53 AM CST
HENDERSON, Ky. (WFIE) - A driver is in the hospital after police say she drove her car into a home in Henderson.
It happened around 3:20 a.m. Friday in the 1300 block of O'Byrne Street, which is located near Mill Street.
Contractor Robert Mclean spent Friday morning replacing the caution tape on the home that he and his crew have been building for months after boarding up the home. Just one day ago, the work was 90% finished.
"I got a phone call about 6 or 7 o'clock this morning telling me I needed to come board it up because somebody done drove through the house," Mclean said.
Mclean showed up to find the woman's car all the way inside of what was supposed to be the master bedroom of the home.
Police say a 26-year-old woman drove off the road and all the way inside.
"Pretty shocked," Mclean said. "I was hoping nobody got hurt or anything like that."
Police say the woman was pulled from the wreckage and taken to the hospital with injuries. Nobody was living in the home yet, but now, no one can for a long time.
"It's going to be back to square one, because you have to make sure your foundation's good and all that before you go any farther," Mclean said.
Police say surveillance footage shows speed was a factor in the crash.
In one moment, most of Mclean's work was gone.
"Pretty shocking you know, because now you have to turn around and go all the way back through it and make sure nothing else is busted, make sure all the foundation's good and everything," Mclean said.
But, Mclean says he's grateful crews were able to pull the woman out alive.
"The Lord was looking out for her, that's all I can say," Mclean said.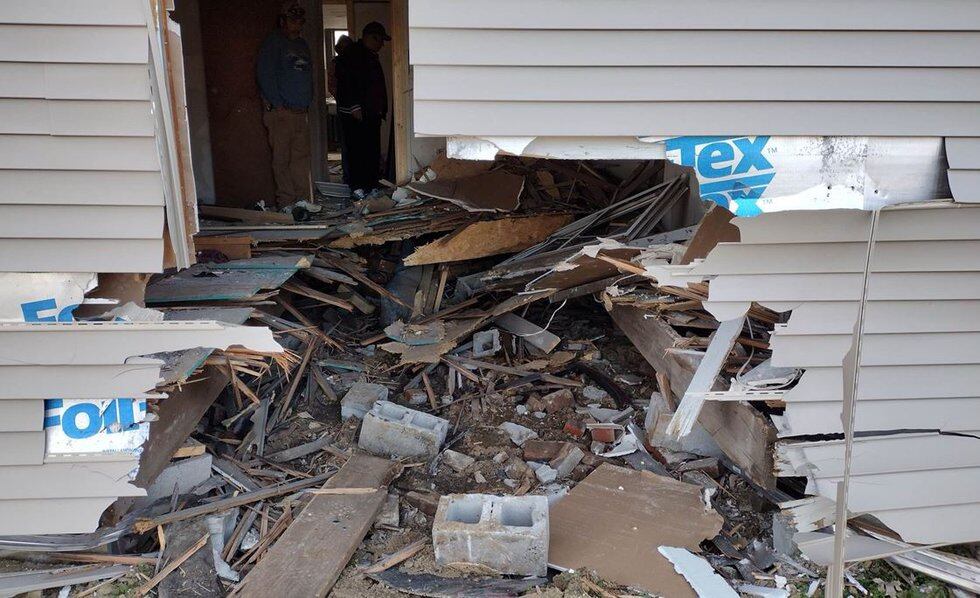 Copyright 2021 WFIE. All rights reserved.