Arrest affidavit shows new details in deadly incident at Evansville home
Published: Oct. 21, 2021 at 8:38 AM CDT
|
Updated: Oct. 21, 2021 at 6:37 PM CDT
EVANSVILLE, Ind. (WFIE) - New details have arisen on the deadly situation that unfolded on Evansville's west side Wednesday morning.
The incident left two people dead, including one who was shot by authorities.
[EPD: 2 dead, including 1 shot by authorities at Evansville home]
36-year-old Heidi Carter was arrested in connection to the case.
Carter is facing the following charges: murder, two counts of intimidation with a weapon, rape, two counts of felony criminal confinement, assisting a criminal, carrying a handgun without a license, and abuse of a corpse.
14 News obtained Carter's arrest affidavit that shows new details in the gruesome timeline of what happened in the home that led to two people's deaths.
Through an investigation, the Evansville Police Department says officers learned that Carter met one of the victims through a dating app. Police say Carter invited the victim and her boyfriend over to the home.
The affidavit states the three of them started drinking and taking drugs before engaging in sexual activity. That's when authorities say Carter's boyfriend, Carey Hammond, arrived at the home and became angry and started to beat the two victims with a baseball bat.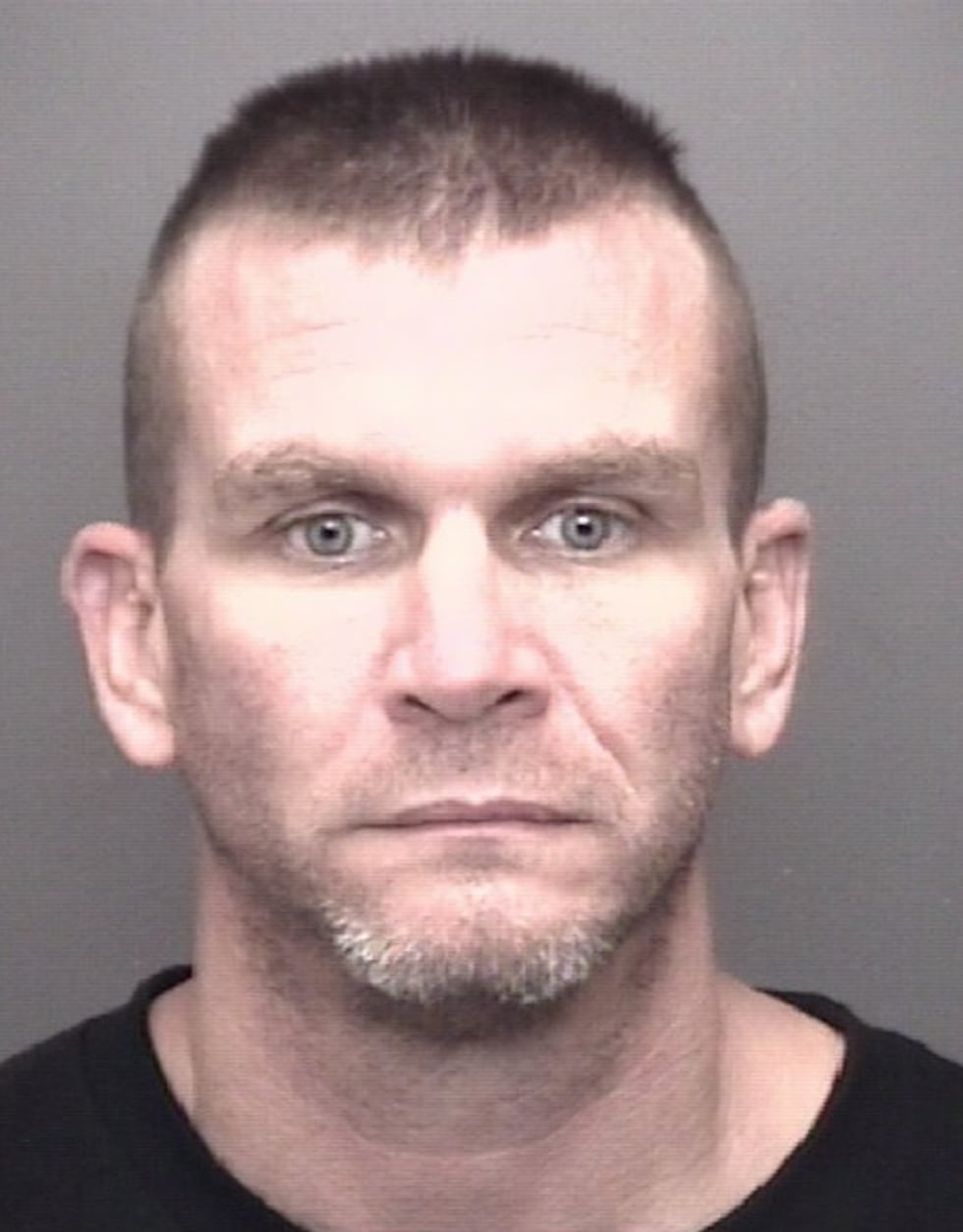 Officials say Hammond physically restrained the two victims and raped the woman.
According to authorities, Carter had a gun and made threats to kill both the victims.
After a few hours, police say Carter left the home.
During this time, the affidavit says Hammond became angry again when the male victim started fighting against his restraints.
Officials say Hammond then wrapped his belt around the male victim's neck and strangled him until he died.
Carter returned and found that Hammond had wrapped the man's body in blankets, and the two moved the body to a different room, according to court documents.
Authorities then say Carter invited another woman over to help clean the house before a landlord inspection.
Officials say the woman noticed Carter had blood on her boots and a handgun in her possession when she came over.
Investigators say the woman helped Carter clean two rooms before she went into another room, which is when she started hearing a woman asking for help and begging to use the restroom.
According to the affidavit, the woman sat down on what she thought was a pile of pillows and blankets, but started to panic when she discovered that under the blankets was a dead body.
Authorities say the woman who sat on the body was able to escape the house and found an Indiana State Trooper.
Carter is in jail on no bond.
EPD officials said several people and juveniles were also inside the house. We are told they are all safe.
After the release of the body camera footage, Evansville Police Sgt. Anna Gray walked 14 News through what she says viewers aren't able to see in the video, including the four minutes that officers were asking Hammond repeatedly to come outside with his hands up.
The body camera footage reveals the first man, who's now identified as the homeowner Jason Harvey, coming outside with his hands up complying with the police.
Police say the next several minutes included commands from officers for the next man, now identified as Hammond, to also walk outside with his hands up.
"You had officers who were staged all along the front of the home, using things such as police vehicles as barricades and cover, and there were some trees out there they were using as well," Sgt. Gray said.
Our 14 News team was not able to see inside of the door from our viewpoint, but police say Hammond was making himself visible to police before stepping out.
"If this is an open doorway right here, they can actually see movement where they can see someone going in and out of the doorway," Sgt. Gray said. "And they are telling him, 'We see you, we see you - come out and show us your hands.' They're giving him commands, you know, come out, come out."
Police say this interaction goes on for four minutes, and when Hammond did come out, they considered it to be in an aggressive manner.
"I mean it happens very fast, he comes out very quickly, there are officers in front of him," Sgt. Gray said. "He comes out and doesn't show his hands. He has his hands out in front and has an object out and pointing it - this is a shooter's stance."
EPD officials say if he would have walked out of the home as officers told him to do, the situation would have ended differently.
"The suspect is deceased and we can't ask him these types of questions, but when you are surrounded by police officers and you come out with an object that appears to be a gun and you're pointing it like it's a gun, I hate to use the word assume, but I can only assume that's going to in someone's mind - this is going to get me shot, this is going to get me killed," Sgt. Gray said. "We call these types of situations suicide by cop."
Sgt. Gray says investigators haven't determined yet whether this was suicide by cop. These are some of the details police are still working to figure out in the investigation.
14 News was able to contact Harvey, the homeowner, on Thursday. Although he didn't want to appear on camera, Harvey provided some clarification, along with the following statement:
"At this time, my family and I are in shock from everything. My statement would be I invited Heidi into our home because she was living in a motel and needed a place to stay, well she and my kids had a good bond, she never showed any signs of being like what had transpired. Heidi was staying there until she could get on her feet, her boyfriend Carey started coming over and things got bad with them fighting a lot. I had asked her not to have anyone over because of my kids but obviously didn't listen. I was only trying to help an individual out. During the hours of 8:30 am on the 19th to 7:45 pm I was at work or buying groceries. When I was at home I met Cynthia briefly as she was helping Heidi clean the downstairs part of the house. I had laid down from being tired and also from being in pain of passing a kidney stone. When I came out of the bathroom I noticed lights in my windows and I went downstairs to find out what was going on, only to be backed out to the police. I was notified of having a deceased person in my house when I was being questioned at the police station. In short, my children, and I were unaware of what was going on inside the house downstairs during the day and night of the 19th. The kids are doing well, and are out of town with family while I try and get things in order like my car was shot and doesn't run due to a bullet hitting the fuse block. I would rather not appear on television at this time."
We will continue following the investigation as we learn more.
Copyright 2021 WFIE. All rights reserved.