Gov. Beshear gives Team Kentucky update
Published: Sep. 23, 2021 at 7:15 AM CDT
|
Updated: Sep. 23, 2021 at 11:29 AM CDT
KENTUCKY (WFIE) - Governor Andy Beshear gave his weekly Team Kentucky update Thursday.
Beshear says the COVID-19 positivity rate is declining - and about 60 percent of people in the state have received their first dose of the vaccine.
However, the governor says he is still concerned as ventilator usage continues to rise among patients in the hospital - patients who he states are mostly unvaccinated.
He says there are two main ways to reduce the number of people who are in the hospital: getting vaccinated and wearing a mask.
"You can get vaccinated, and you can wear a mask," Beshear said. "The cheapest and most effective way of addressing our healthcare problem right now would have been requiring masking while people are indoors during this really terrible surge. It works. It has worked three times. The fact that we couldn't do it this time has put so much more stress on the system."
During the update, Governor Beshear said they are hoping new cases start to plateau in the state. Officials then hope to start seeing a decrease in those new cases.
However, Beshear said if they plateau at the rate they are at right now, the state's hospitals won't be able to sustain it.
He also showed a COVID positivity rate graph that indicated a slight decrease in the percent of positive cases, which Beshear hopes to see continue. The state's COVID inpatient census for hospitals across the state also appears to be decreasing.
However, he says this isn't the case of COVID hospitalizations in the ICU, where they are seeing more of a plateau.
Despite this, Beshear said COVID patients on ventilators continue to increase.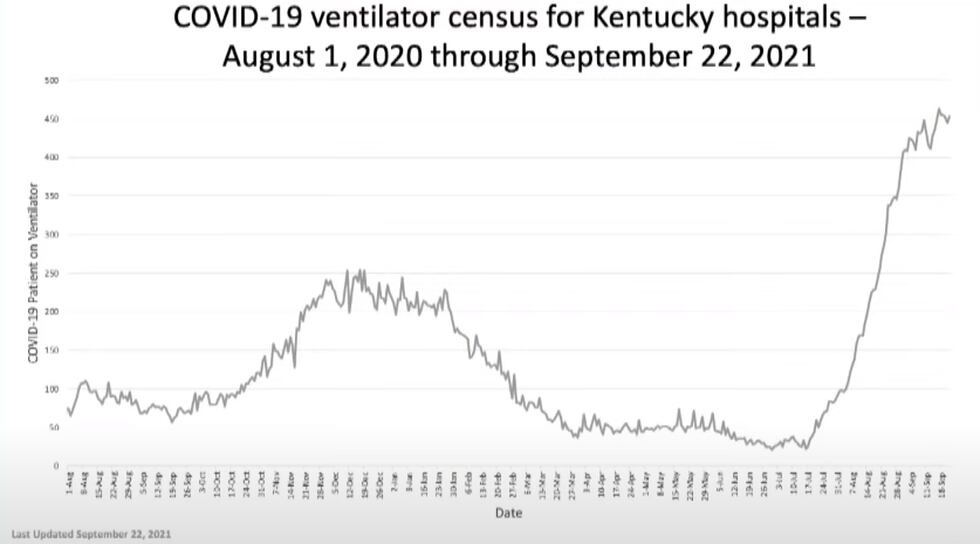 According to the governor, 64 of 96 of the state's hospitals are still experiencing critical staffing shortages. The state has a total of 130 available ICU beds.
Beshear said at this time, they have 21 children in the hospital with five of them on ventilators.
Beshear says the state has increased the number of deployed National Guard members to 505 in order to help hospital staff. Those guard members are at 29 hospitals throughout Kentucky.
The Muhlenberg County Health Department reported 50 new COVID-19 cases and one additional death on Thursday.
This brings the countywide number to 4,959 total cases and 81 deaths.
Muhlenberg County now has 282 active cases.
Kentucky residents can visit vaccine.ky.gov to find a vaccine location.
Here are the all-time totals of confirmed positive cases and deaths in our area of Kentucky:
Daviess Co. - 15,084 cases, 229 deaths, 53.66% vaccinated

Muhlenberg Co. - 4,959 cases, 81 deaths

Hopkins Co. - 7,478 cases, 185 deaths

Ohio Co. - 3,950 cases, 69 deaths, 38.09% vaccinated

Henderson Co. - 7,230 cases, 91 deaths, 47.97% vaccinated

Webster Co. - 2,219 cases, 31 deaths, 44.32% vaccinated

McLean Co. - 1,287 cases, 35 deaths, 47.69% vaccinated

Union Co. - 2,264 cases, 24 deaths, 38.45% vaccinated

Hancock Co. - 1,230 cases, 17 deaths, 57.25% vaccinated
Copyright 2021 WFIE. All rights reserved.