From spark to inferno: How space heaters can cause a fire
Updated: Jan. 15, 2020 at 11:45 AM CST
EVANSVILLE, Ind. (WFIE) - Temperatures are supposed to drop and that might prompt people to break out the old space heater to keep warm. However, fire officials say you need to be careful.
"You see it here. This is starting to hit that maximum heat release rate. It's getting to be fully involved. You can feel the heat back here from 20 feet away," said Evansville Fire Inspector Rick Whitehouse.
Whitehouse is standing outside a burn chamber at the EFD's training center, watching an old recliner bathe in flames.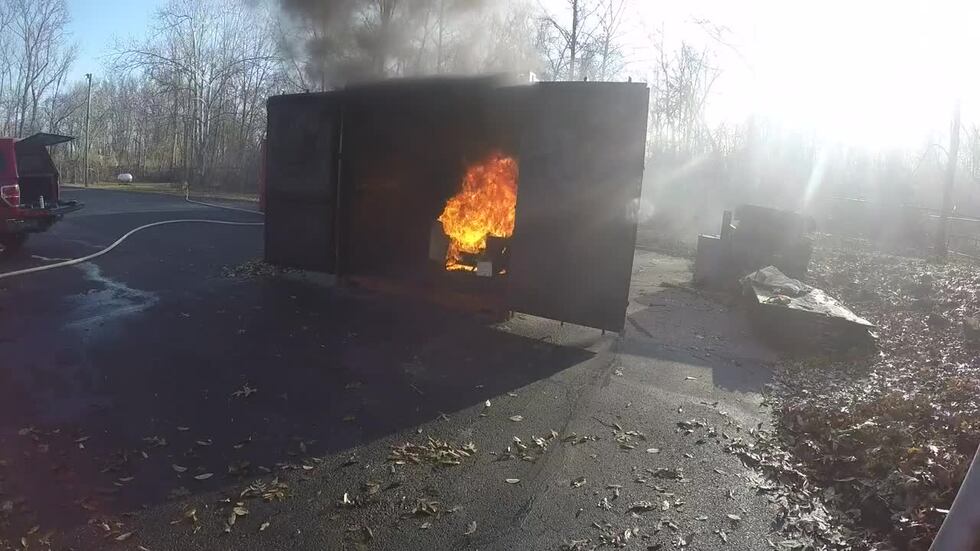 Every year, the Evansville Fire Department gets called to house fires. Fire officials say in the winter many of those fires are caused by something as simple as a space heater.
"Even if it is a little space heater you don't want to leave it unattended because all it takes is just a few seconds in the right conditions and you can have a tragic outcome," said district fire chief Mike Larson.
Whitehouse says the fire can start from a small spark, but when it catches hold of something flammable, it can spread quickly.
"It's putting off enough BTU's that it'll get into the chair here shortly," described Whitehouse in the infant stages of the fire. "The chair has got foam in it which is highly flammable," he explained. "Chairs put off a high amount of energy...so once it really starts to take off it will hit it's highest heat release rate fairly quick believe it or not."
As the fire progressed, less and less of the chair remained. After timing the blaze, it only took six and a half minutes for the fire to get to what officials called a "flashpoint."
"It's up the point where this is an untenable room, probably for anybody," said Whitehouse. "[The] floor is probably upwards - if the ceiling is upwards of 1,200 degrees the floor is probably somewhere around 200-250 degrees."
Whitehouse says that once the "flash" happens an entire room will be totally involved, and anyone still in that room will be in real trouble.
"If they're in the room of contents they probably need to get out within three to four minutes," Whitehouse said. "Okay, if they're not able to get out in 3-4 minutes then they're going to be part of the problem."
The National Fire Prevention Association recommends that if you use a space heater keep it at least three feet away from any objects.
Copyright 2020 WFIE. All rights reserved.