Indiana reports 22 flu deaths this season
Updated: Jan. 13, 2020 at 5:40 AM CST
EVANSVILLE, Ind. (WFIE) - Twenty-two people in Indiana have died from the flu this season, according to the Indiana Department of Health.
We reported earlier this flu season how doctors expected a more "aggressive" strain of the flu, and we've seen that already.
Take a look at this chart: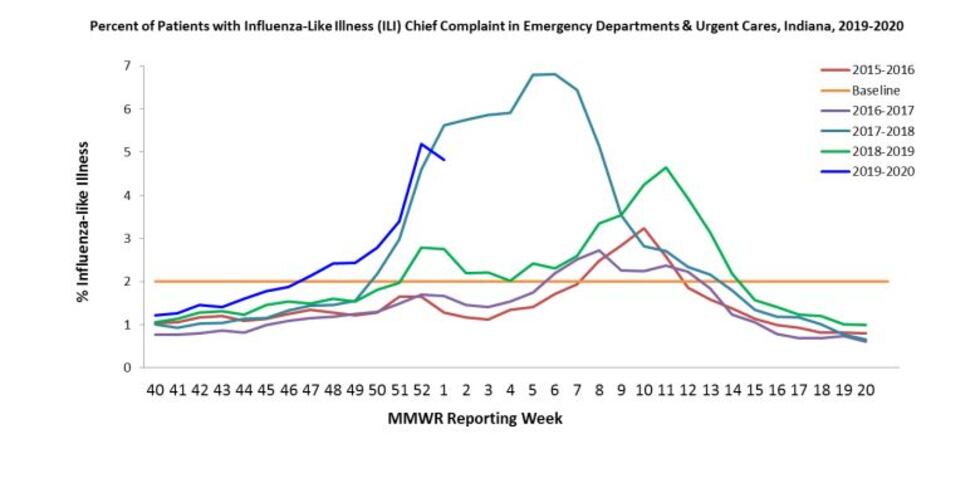 These are the number of flu cases that ERs and Urgent Cares have seen for the 2019-2020 flu season. The dark blue line is this year's numbers and through the end of 2019, we were seeing numbers that rivaled 2017-2018.
Now, at this point in 2018, there were 79 flu-related deaths, so, thankfully, we aren't seeing that. However, 22 is still significantly higher than we saw this time last year. That number looks to be dropping right now and hopefully, that's a good sign, but we still have a long way to go in this flu season.
It's important to remember some simple things to help keep yourself healthy:
Don't eat or drink after someone who is sick.

Make sure you cover your mouth when you cough.

Wash your hands regularly.

Clean and disinfect surfaces around the house, especially places where germs can pool.
It's not just flu that these guidelines can help with, there's plenty of disease going around. In fact, we reported this weekend that the Henderson County Jail is having to deal with more than half their jail population experiencing virus-like symptoms.
The jail did test for flu and those tests were negative, but the detention center says their doctor is on top of it.
Copyright 2020 WFIE. All rights reserved.