Tri-State doctor warns of 'aggressive' flu strain in Indiana
Updated: Dec. 12, 2019 at 8:16 AM CST
EVANSVILLE, Ind. (WFIE) - Officials say this year's flu season is coming in fast and furious. In fact, "aggressive" is the word of choice to describe this strain of flu by a local health professional.
Two months into flu season and the Indiana flu outbreak is already being labeled "widespread."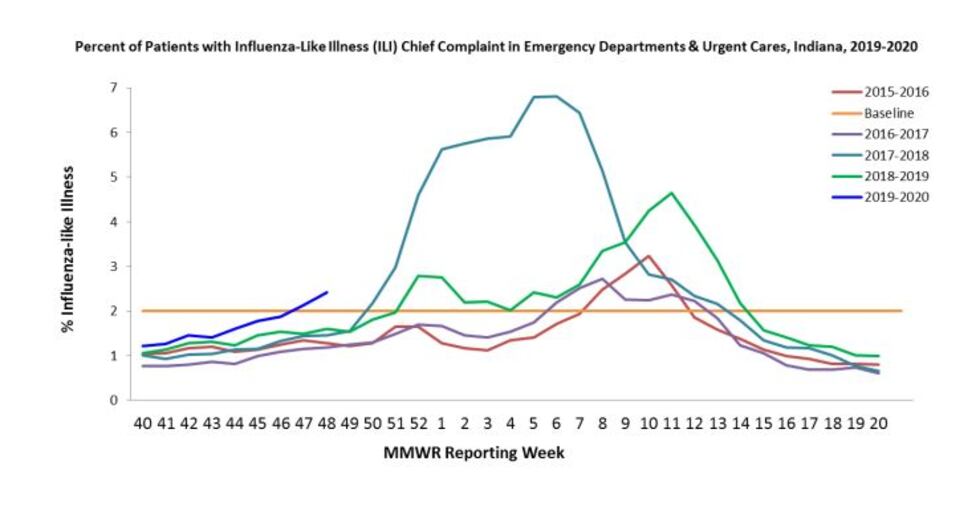 According to the Center for Disease Control, 2019 is already seeing a higher number of flu-like cases reported than any of the past five years to this point.
"We're not even into the peak of the flu season here yet," said Dr. Daniel Holland, a family medicine doctor at Deaconness. "I think we can easily see so far looking at a more aggressive form of the flu than what we saw last year, even in the last 15 years," he continued. "I mean we've seen over 900 people die from the flu already this season."
That's a national statistic from the CDC, but, here in the Tri-state, Dr. Daniel Holland says we're also seeing that increased level of flu.
"We're seeing widespread flu in the tri-state area and that's farther along than what we saw this time last year," Dr. Holland said. "I think the flu never really gets old because it comes back and gets us every single year. We try to prepare for it and we vaccinate. But this year's flu so far seems to be a lot more aggressive than last year's flu."
According to the CDC's weekly Indiana flu report, 64 patients have been diagnosed with the flu this year and kids are the main victims.
Dr. Holland says that getting a flu shot is the best way to protect yourself from this year's strain of flu virus, while also helping keep the broader population safe.
"You know when we talk about "herd immunity" we're talking about people protecting from further spread of the flu," Dr. Holland said. "You can think of it sort of like a wall of shields around, and the more people that get the flu vaccine, the more shields we have. As people start to skip getting the flu vaccine for whatever reason we start to see those shields kind of drop and the flu can kind of sneak in. You could also kind of think about it like a football line. If a lineman drops to his knees it's very easy to get at your quarterback."
Health professionals say that flu strains change year by year so even if you got the shot last year it's important you get one again this year.
Copyright 2019 WFIE. All rights reserved.