3-year-old dies in hot car at USI
Updated: Jul. 9, 2019 at 9:30 PM CDT
EVANSVILLE, Ind. (WFIE) - The boy who died in the hot car was 3-year-old Oliver Dill, according to the Coroner's Office.
The Coroner says the investigation is still ongoing.
According to the Vanderburgh County Sheriff, a parent forgot to drop off their child at daycare Tuesday morning. The Sheriff says when the parent went to pick up the child, the parent realized the child was still in the car seat.
"It's hard seeing that happen to someone so young, and I can't imagine that kind of thing," USI graduate Lacey Lee expressed.
Sheriff Weddings says the child was a young boy and attended the USI daycare.
Sheriff's deputies say they got a call around 1:45 p.m. on a report of a child left in a car and say the child had been in the car since the morning.
"On my way out here, the temperature in my car was in the mid 90′s, so I'm certain the temperature inside the car went over 100 degrees, so, obviously, parents just need to be aware and make sure they double check their cars before they get out," Vanderburgh County Sheriff Major Jason Ashworth explained.
USI's president Ronald Rochon released a letter to the community, expressing condolences for the family. He says the campus will be offering counseling services.
He also says the Children's Learning Center will be closed Wednesday, giving childcare workers time to grieve and process the tragedy. Rochon says they haven't decided when the center will reopen.
The child care center serves children ages two to 5-years-old and is mostly used by students, staff and faculty.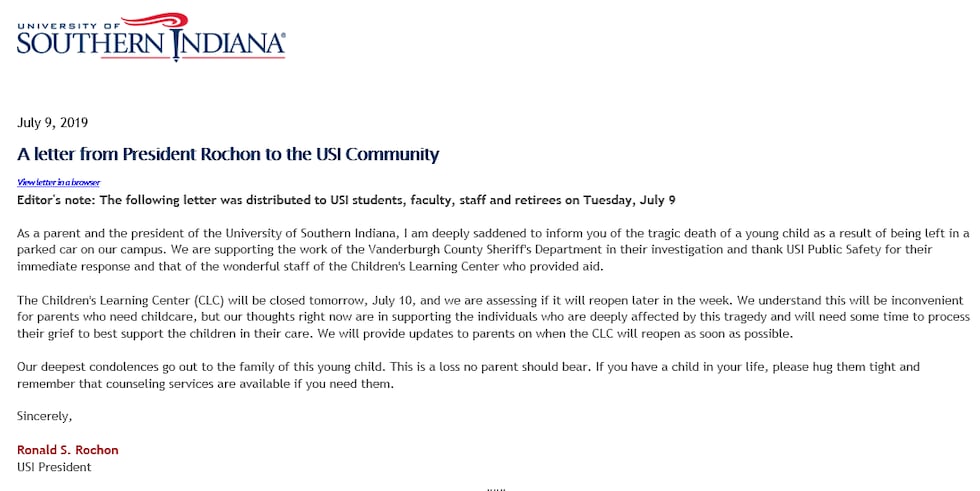 Copyright 2019 WFIE. All rights reserved.