Two sister dogs saved, found dumped in bag on KY road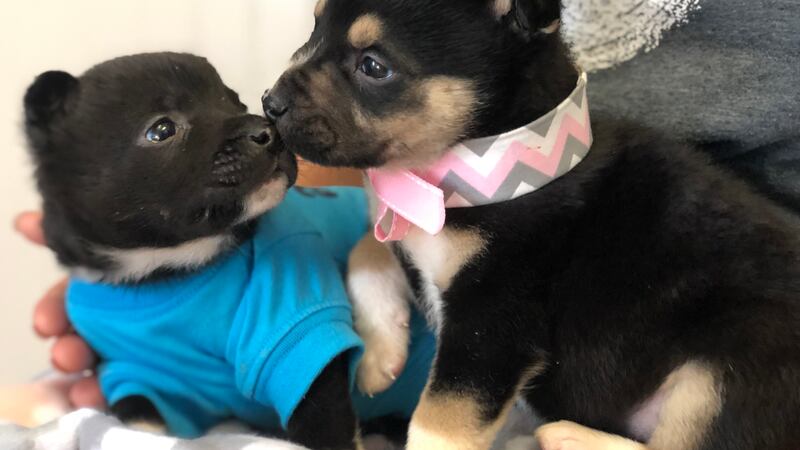 Updated: Feb. 1, 2019 at 8:10 PM CST
EVANSVILLE, IN (WFIE) - Two Tri-State puppies are getting a second chance at life. They were found in a bag on the side of the road. They're not quite ready for adoption but will be in a couple of weeks.
Their names are Macy and Elsa.
"Macy, she seems to have more energy," It Takes a Village Director Tangila Ashby explained. "Elsa is calmer."
They're sisters who almost didn't survive. They were found Saturday, dumped in a bag on the side of a Daviess County road.
"We kind of see it a lot, we just know we have to pick them up and find fosters," Ashby recalled.
The man who found them and his mom took them to a Daviess County animal shelter, but reached out to It Takes A Village who picked them up on Monday.
"It's not safe for puppies in a shelter—they can catch diseases and get sick," Ashby explained.
It didn't take long to find fosters for Macy and Elsa, who are believed to be 3-4 weeks old, and require extra attention like all young puppies.
"You're basically their mom; you have to help them go to the bathroom, have to bottle feed them every 3 to 4 hours," Ashby said.
No one knows for sure what breed the two are, but they're already learning new skills.
"If I had to guess right now, I'd say Shepherd mixes but they'll change as they get older," Ashby stated.
Investigators are also trying to figure out who is responsible for dumping them.
Ashby says she'd like to see tougher animal cruelty penalties across the Tri-State.
Macy and Elsa will be in foster homes until they're at least eight weeks old.
They will be available for adoption after that.
Copyright 2019 WFIE. All rights reserved.