Spread the Vote looks to start chapter in Evansville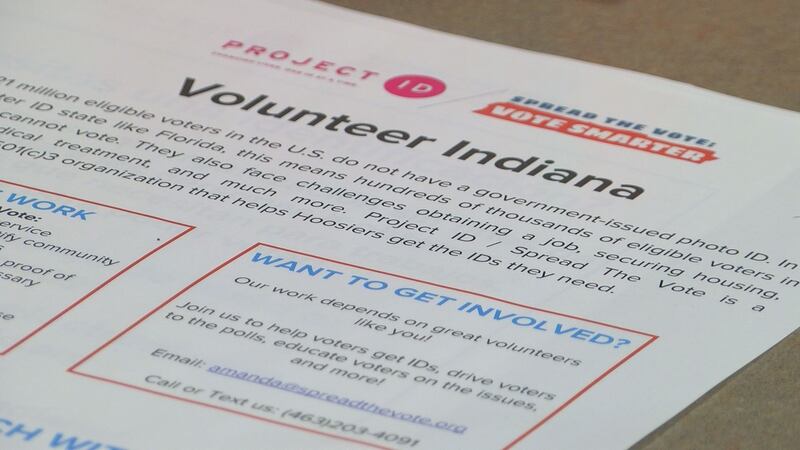 Published: Jan. 26, 2019 at 8:19 PM CST
EVANSVILLE, IN (WFIE) - The Project I.D. initiative by Spread the Vote Indiana is aimed at helping those without an I.D. receive one free of charge.
An I.D. can break down many barriers and change people's lives. Those in attendance today wanted to learn more in order to help the community right here in Evansville.
Shannon Dierlam is one of several people who came to find out more about the Project ID initiative. She wants to help those in the community with out I.D.'s receive them to be able to vote.
"I was surprised. I always thought you had to have a mailing address to get your I.D.'s. I was please to hear that there were ways to circumvent and find the right way of doing that," said Dierlam.
Indiana State Director Amanda Noell educated those in attendance about how they can help their community here in Evansville. Many were concerned about voter turnout.
"I think a lot of it is just lack of knowledge. A lot of people don't know that there is a 29-day registration time. They don't understand that there is a primary and a general election for a state that has an open elections process. They don't understand that they have to pick a ballot," said Noell.
Noell would like to start a Spread the Vote chapter right here in Evansville, to not only educate the community about voting, but also for the benefits that an I.D. can provide.
"It does so many different things. It is not just about voting. its about helping people get themselves out of a situation that they have found themselves in and doing it in a respectful, truly helpful way," said Noell.
As for Dierlam, she hopes to soon be involved in the Project ID initiative, and she's thankful that Spread the Vote took interest in Evansville.
"I think it is great that there is a group that is willing to go to battle for these people that have not got their ID's and fight for them. I think it is a great opportunity," Dierlam.
Copyright 2019 WFIE. All rights reserved.