$70k to help domestic violence victims in Southern Indiana
coincides with National Domestic Violence Awareness Month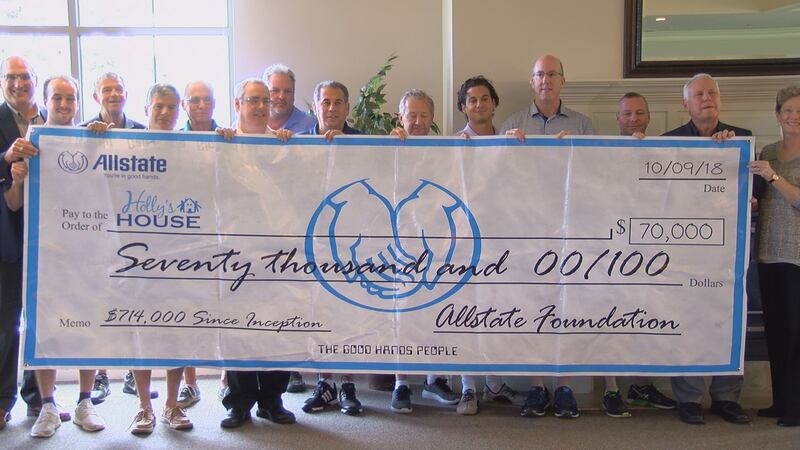 Updated: Oct. 9, 2018 at 6:57 PM CDT
EVANSVILLE, IN (WFIE) - The Allstate Foundation gave local non-profit Holly's House a check for $70,000 on Tuesday to help victims of domestic violence across 12 southern Indiana counties.
Martha Seal, Development Director of Holly's House, said the donation means the world because all of their services for domestic abuse victims are free of charge. It's donations like this that allow them keep serving domestic violence victims.
The money will be split up between two other local domestic violence non-profits as well; the Lampion Center, which offers counseling for victims, and the Albion Fellows Bacon Center, which helps abuse victims get into safe housing.
Seal told us that the Allstate Foundation has donated over $700,000 to them over the last 12 years.
She said the money received on Tuesday will go towards "immediate services" for domestic abuse victims.
"Let's say you had your door kicked in and you've got to get that replaced. Or our Lampion Center does counseling and our Albion Fellows Bacon Center offers safe housing and also has advocates for victims," Seal said.
Seal encourages victims of domestic violence to tell someone they trust about what happened to them and if desired seek professional help.
"And Holly's House is a safe place to do it. It doesn't mean you have to press charges you just need to let someone know."
Seal said just the act of telling someone is very important in order for healing to begin.
"A lot of people say I don't need services I just needed someone to know this happened," Seal explained. "So that's what we do. We just listen. We're empathetic. We try to coordinate local resources as necessary. And we do all of that at no charge."
Copyright 2018 SITE. All rights reserved.