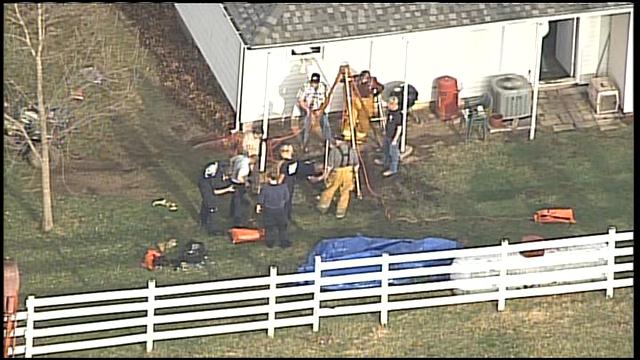 CASS COUNTY, MO (KCTV) -
A 72-year-old farmer was killed after getting trapped in a well in rural Cass County, MO.
The incident was reported about 5:20 p.m. near East 229th Street and South Dillon Road in Gunn City, MO.
The Jackson County Medical Examiner's Office removed Connie B. Dillon's body Thursday evening. Family members were at the scene grieving.

Deputies first got the call around 5 p.m. about a unresponsive man who fell in a 20-foot well. Rescue crews used a tripod and harness to recover the body.
The Cass County Sheriff's Office said although the case is open, they don't suspect foul play.
"Investigators are trying to determine exactly what happened. The Jackson County Medical Examiner's Office is here. They'll help us define what the cause of death was," said Lt. Kevin Tieman.
Neighbors describe Dillon as a kind man, farmer and rancher. He lived at the home where he was found. Neighbors were in shock at the tragedy.

Copyright 2014 KCTV (Meredith Corp.) All rights reserved.