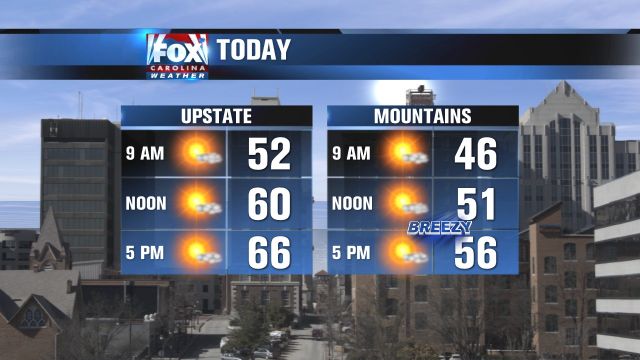 We've had a series of days now with above-average temperatures, and after our snowy blast of winter a few weeks ago, many are expressing their desire for a quick change to spring. This warmer-than-normal pattern is coming to a close though, after another day or two of warmth.
Today, we can expect sunny skies and highs to reach the mid-60s Upstate, with a breeze from the north around 5-10mph. In the mountains, highs reach the mid-50s but with breezier conditions from the north 14-20mph, gusting to 25mph. Tonight we'll see partly cloudy skies with lows dropping into the 30s to near 40°.
Tuesday is the true end of this week's above-average warmth. Partly cloudy skies, highs in the mid-50s to 60°. Overnight, clouds increase as a cold front approaches. This will bring a chance for overnight rain Upstate, and showers changing to snow in the mountains by Wednesday morning.
Early Wednesday we'll still be in a region of isolated showers/snow showers, but once the cold front passes we'll quickly build in high pressure and boost the sunshine by Wednesday afternoon. The difference in this new air mass, though, is that it's an arctic high pressure. This means while we will see plenty of sun, the cold air will move in with it, leaving Wednesday's highs in the 40s to low 50s. The dry, sunny pattern sticks with us through the end of the work week, warming a degree or two each day.