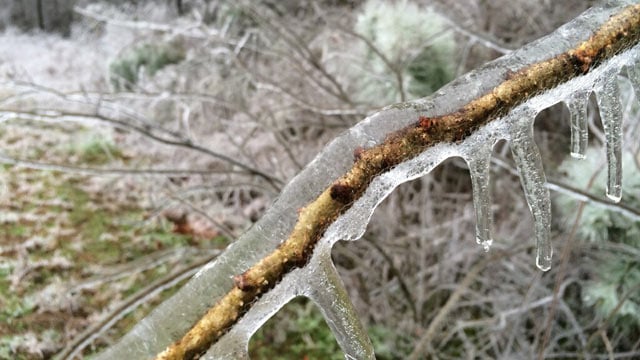 The attached photo illustrates dramatically what can happen to trees and power lines as ice collects. (Source: Electric Co-Ops of SC)
GREENVILLE, SC (FOX Carolina) -
As snow and freezing rain blew through the Upstate Wednesday into early Thursday, thousands were left without power.
According to Duke Energy's website, a little more than 2,100 customers without power in Oconee County.

Blue Ridge Electric Co-op crews have been working to get the outages repaired. In about two hours, outages in Pickens and Oconee counties were reduced from 615 to 147.
According to Electric Cooperatives of S.C., a few hundred more are without power in other Upstate areas while 137,000 remain without power across the state.

The majority of outages in South Carolina were reported south and east of the Upstate as many areas saw more icy issues rather than snow.
Emergency management officials are urging people to only call 911 in the case of a life-threatening emergency if they are dealing with a blackout. People without power should call their respective power companies to report the outage.
Residents are also urged to stay away from downed power lines. Other safety tips amid a blackout are:
Use extreme caution with supplemental heaters and generators
Do not run a generator inside a home or garage
Use only flashlights for emergency lighting. Use caution if burning candles
Never use an oven as a source of heat.
Turn off or disconnect appliances, equipment or electronics in use when the power went out to avoid damage from surges.
Keep refrigerator and freezer doors closed to keep your food as fresh as possible.
Keep your mobile devices charged, and use the phone for emergencies only. Listen to a portable radio for the latest information.
Provide plenty of fresh, cool water for your pets.
Copyright 2014 FOX Carolina (Meredith Corporation). All rights reserved.