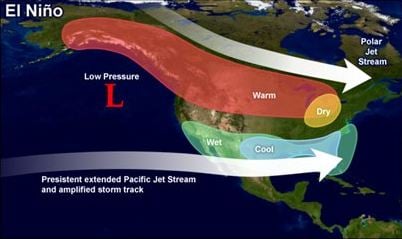 PHOENIX (CBS5) -
Do a Google search for 'El Nino 2014.' You'll find many articles, from reputable media outlets, all citing a study regarding an impending El Nino this summer, leading to worldwide warm-up in 2015. The thinking amongst your CBS 5 weather team, as well as others in the meteorological community, is that it's way too soon to predict.
"Right now, we don't really think that's where the science is. It's a little too difficult, this early in the game, to come out with an accurate El Nino forecast," said Ken Waters with the National Weather Service in Phoenix.
El Nino is the phenomenon characterized by a warming of ocean waters in the equatorial Pacific which can ultimately effect global weather patterns. Currently, we're in a neutral pattern, and no El Nino effects are predicted through the spring.
There are some indications of a weak El Nino developing by the summer, but El Nino has little effect on our summer weather.
"In this area, it's really a winter-time phenomenon," added Waters.
El Nino events in Arizona typically bring above-average desert rain, additional mountain snow and cooler temperatures during the winter.
Copyright 2014 CBS 5 (KPHO Broadcasting Corporation). All rights reserved.