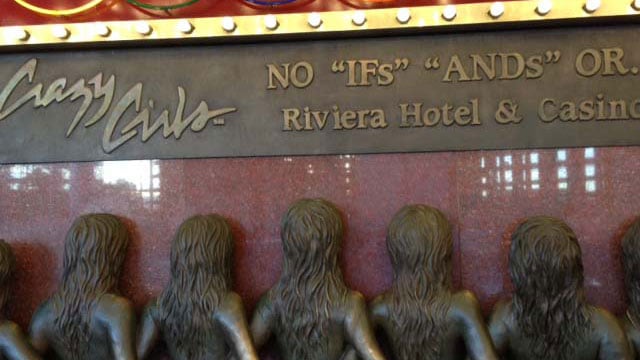 The cast of Crazy Girls topless revue on the Las Vegas Strip will donate sales of its anniversary show to the Terri Brodeur Breast Cancer Foundation. (FOX5)
LAS VEGAS (FOX5) -
Dancers from a Las Vegas topless revue show have found a recipient for their donation money after they were rejected by the Susan G. Komen Foundation.
A portion of ticket sales from Crazy Girls' anniversary show will go to the Terri Brodeur Breast Cancer Foundation, a non-profit organization based in Connecticut.
In a report on Tuesday, cast members of the topless show at The Riviera Hotel and Casino expressed their frustration over the rejection.
"It's really hard not to take it personal. Breast cancer runs in my family as well, so it's really hurtful," said a dancer who goes by her stage name, Victoria.
The executive director of the Susan G. Komen Foundation in southern Nevada said it's the organization's policy not to partner with certain businesses, especially ones that may sexualize women.
"There are too many survivors out there who no longer have the body part that is being displayed at a lot of these shows," Kirby said on Tuesday.
The cast also said it will make a donation to Safe Nest for Domestic Violence Awareness Month.
Copyright 2013 KVVU (KVVU Broadcasting Corporation). All rights reserved.