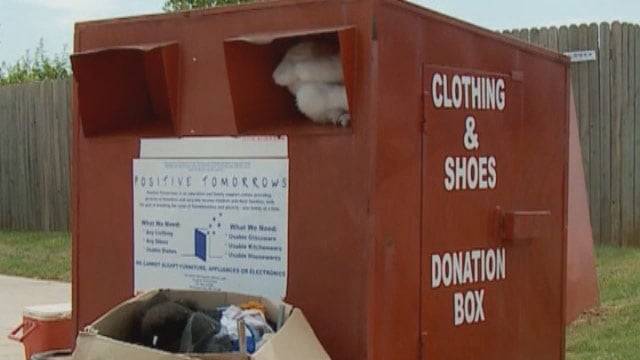 OKLAHOMA CITY, OK (KCTV) -
Firefighters in Oklahoma City made an unusual rescue after a woman got herself stuck in a donation bin.
The woman dropped off several bags of clothing at a thrift store. When she got home, she realized she had dropped a tennis bracelet inside the bin, so she went back the next day to try and get it, leading to her awkward situation.
She was able to call 911 from inside the container.
"I came down here and was kind of was looking around, looking around, looking around and I got inside it. And I have MS [Multiple Sclerosis] so it doesn't take much before I start really cramping up and hurting, you know. And I can't get out," the woman said.
The woman was stuck in the bin for about 2 1/2 hours until she was rescued. She never did find the bracelet she was looking for.
Source: KFOR/Oklahoma City

Copyright 2013 KCTV (Meredith Corp.) All rights reserved.