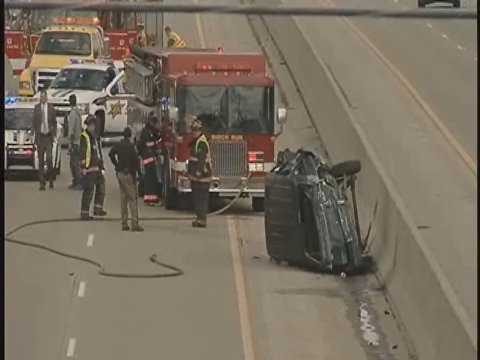 A view of the crash from an overpass.
GENESEE COUNTY, MI (WNEM) -
A high-speed crash that involved two vehicles caused a traffic backup on southbound I-75 just before noon near Clio.
Authorities have cleared the wreckage of the two cars from the scene. The accident occurred close to Farrand Road, north of Clio.
Shortly before noon, Genesee County Sheriff's department said several callers reported a green Astro van weaving in and out of traffic, and going over 100 mph. The sheriff's department said when the van got close to Farrand Road, it rear-ended another car.
The crash sent both vehicles into the ditch, but only minor injuries were reported for everyone involved .
The driver of the Astro van was a 23-year-old Saginaw man while the other vehicle was being driven by a couple in their 70s from Traverse City on their way to Florida.
Two of the four lanes on that stretch of roadway were temporarily blocked by rescue personnel to they could deal with the crash.
The sheriff's department told TV5 alcohol and speed are believed to be factors in the crash.
Copyright 2013 WNEM (Meredith Corporation). All rights reserved.