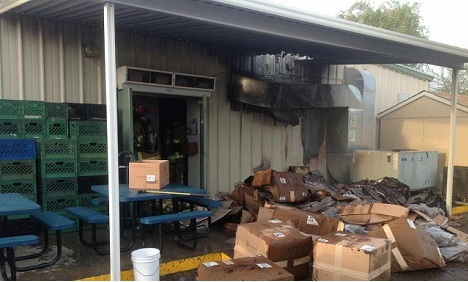 MESA, AZ (CBS5) -
A fire at an Arizona outreach center has caused the kitchen to temporarily close.
Paz De Cristo Community Center Director Arlen Westling said the March 27 fire broke through the duct work to the interior of the kitchen and caused damage to the back wall and ceiling of the Mesa building.
The Mesa Fire Department credits two of the center's employees for quickly working to contain the fire until firefighters arrived.
Paz De Cristo provides food to the homeless and the working poor who may not otherwise be able to eat. Paz De Cristo has an outside eating area with an adjacent enclosed kitchen and storage area.

The Mesa Fire Department and medical team were assisted by the Tempe Fire Department to get the fire under control in less than 12 minutes.
There were no injuries involved with the fire. At this time, crews do not know the value of the damage done by the fire.
The kitchen is temporarily closed until repairs are completed and the Maricopa Health Department has approved it re-opening.
Paz will continue to serve meals thanks to the generosity of area restaurants.
March 27 - Riga Tony's provided pasta.
March 28 - Sandwiches and salads from their pantry.
March 29 - Native New Yorker provided pasta and salad.
March 30 - Art Klaum and the CIC group from St. Tim's served sandwiches.
March 31 - Pizza came from Fred Buck and friends and pasta from Oreganos'.
April 1 - Tom's BBQ provided pork sandwiches.
April 2 - Rosita's will provide enchilada casserole.
April 3 - Central Christian Church will provide hot dogs, beans and chips.
April 4 - RigaTony's will be coming back.
April 5 - Volunteers from the Chandler Mall are serving a meal.
April 7 - Desert Heritage serving Toms' BBQ provided by Insight
April 8 - Rose & Alex Cudzewicz will provide meal prepared by EVIT
Copyright 2013 CBS 5 (KPHO Broadcasting Corporation). All rights reserved.