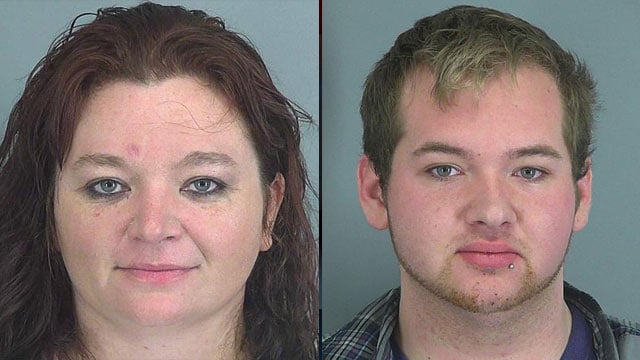 Tonia Mahaffey (left) and Austin Berrong-Mahaffey. (Spartanburg Co. Detention Center)
SPARTANBURG, SC (FOX Carolina) -
Deputies said a call about a drunk patron who couldn't pay her tab led to the discovery that she had bought her underage son drinks at an Upstate karaoke bar.
Spartanburg County deputies said they were called to Libby's Karaoke Bar on Gossett Road about 2 a.m. Saturday because an intoxicated woman could not pay her bar tab.
Deputies said they found Tonia Mahaffey, 37, sitting in the front seat of her car calling someone to come pick her and her 19-year-old son up to take them home.
While making the call, deputies said Mahaffey was cursing loudly and was uncooperative around others outside of the bar. She was arrested on a public disorderly conduct charge. Deputies said her son, Austin Berrong-Mahaffey, was also, "Extremely intoxicated."
Deputies charged him with disorderly conduct.
Deputies said when they realized he was only 19 and his mom had bought him drinks, he was charged with possession of beer or wine by a minor and his mom was charged with contributing to the delinquency of a minor.
Berrong-Mahaffey was later released from jail, but his mother was still being held on bond.
Copyright 2013 FOX Carolina (Meredith Corporation). All rights reserved.