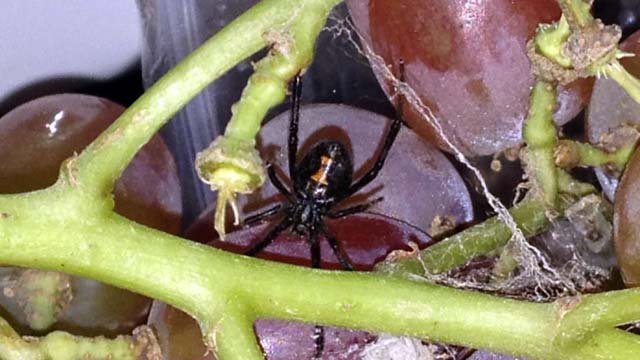 © Facebook
BRIDGEPORT, CT (WFSB) -
A Bridgeport woman said she discovered a deadly black widow spider inside a bag of organic grapes she bought from Whole Foods in Fairfield.
Nora Weiss, 27, said she made the discovery after taking the grapes out of the bag to wash them, according to an article by the News Times.
Weiss said that even though she found one of the poisonous spiders inside her bag of grapes, she will continue to shop at the organic grocer.
According to the News Times, a Whole Foods spokesman said while sometimes spiders and insects can show up in some food items, it's rare.
The spokesman said the food is not sprayed with pesticides so the bugs will not die. He also said team members wear gloves and carefully inspects produce that makes its way onto store shelves to make sure it's bug-free.
Copyright 2012 WFSB (Meredith Corporation). All rights reserved.